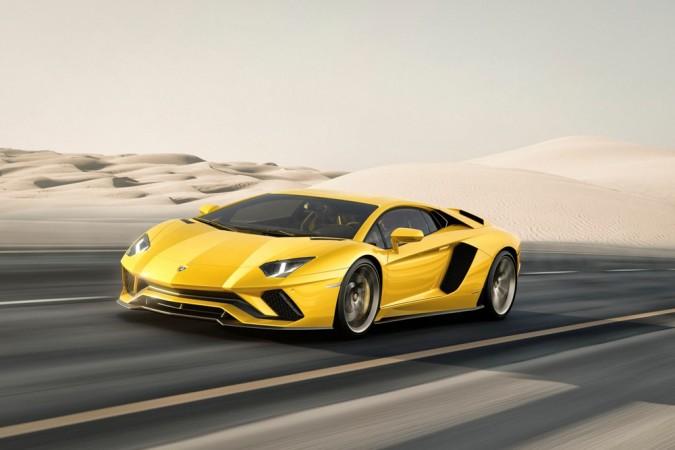 If you are a car lover who always wants more add-ons on your regular drive, Lamborghini has just launched the Aventador S. The S suffixed version of the flagship sports car of the Italian car maker has everything extra you would think of to spice up the regular Aventador.
The Aventador S comes with more aerodynamic body derived from the range-topping SV model. The new version features as aggressive front featuring a beefier splitter that channels the airflow to boost cooling. The new bumper also incorporates two side air ducts.
The rear of the Aventador S is dominated by a black diffuser, available on request in carbon fiber, designed with a number of vertical fins. Lamborghini says the design amplifies the airflow effects, reduce drag through pressure recovery and generate downforce. Three single exhaust outlets exit through the rear bumper. The active rear wing is movable in three positions depending on speed and drive select mode.
The changes in exterior lend improved downforce by more than 130 percent over the regular Aventador coupe. When the wing is in its optimum position, the overall efficiency at high downforce will be improved by over 50 percent and in low drag by more than 400 percent compared to the previous model.
Highlight of the S version is the souped up engine. The naturally-aspirated V12 6.5-litre engine now develops 740bhp up from the 691bhp of regular Aventador. The extra power from the engine has been squeezed out by tweaking the variable valve timing and the variable intake system. Lamborghini also claims engine's maximum revs have been increased 8,500rpm from 8,350rpm. Torque has remained the same at 690Nm and the power is transmitted to wheels via seven-speed ISR gearbox. The Aventador S requires only 2.9 seconds breaching 100kmph speed before topping it out at 350kmph.
Another highlight of the Aventador S is that it comes with four-wheel steering – the first time a series production Lamborghini has used such a system. This helps to enhance lateral control by making the supercar more agile during low and medium speeds. Lamborghini engineers have also added updated pushrod and magneto-rheological suspension to make the best use of the new four-wheel steering system. The Aventador S has been priced at USD 4,21,350, Euro 2,81,555, and British Pounds 2,25,955.