Actor Ram Charan was successful in silencing some crazy fans of power star Pawan Kalyan with his matured attitude at the audio launch of Darshakudu, held in Hyderabad on Sunday.
Sukumar, who is currently directing Ram Charan in Rangasthalam, is producing Darshakudu along with BNCSP Vijaya Kumar, Thomas Reddy Aduri and Ravichandra Satti. The filmmaker invited the actor to be the chief guest at the audio launch of the movie and Cherry accepted his invitation and graced the occasion.
As Ram Charan started his speech at the audio launch of Darshakudu, some crazy fans of Pawan Kalyan interrupted him, by shouts of 'Babai...Babai'. But the actor remained calm and composed. Cherry was successful in making Power star's fans happy with a few words and that too without taking the name of Pawan Kalyan. The fans remained silent throughout his speech.
Without referring to Pawan Kalyan's name, Ram Charan compared him to his mother. "We don't talk daily about the people we like and respect. We don't talk about our mother daily. Our beloved ones should be in our hearts and not in our words. Although I may not take names often, my family stays in my heart. Please understand this," said the Magadheera actor.
Meanwhile, Ram Charan thanked all his fans for their love and support. "The viewers have loved and supported me right from my first film to Rangathalam. I thank you very much. My father gave me a platform. But I owe my success to the directors because of whom I've come a long way," he added.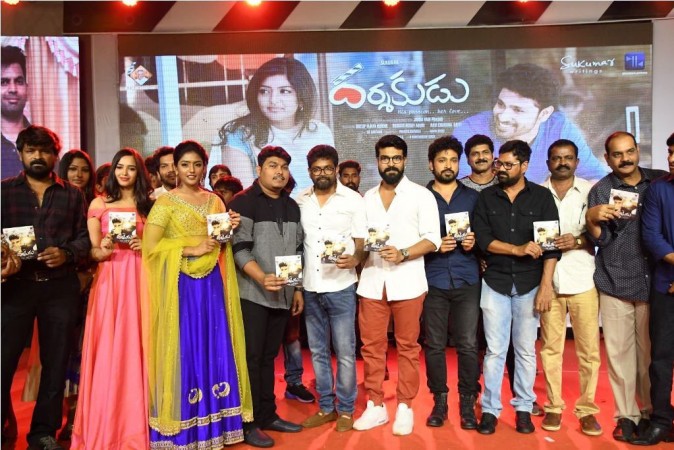 Ram Charan is not the first victim of these crazy fans. Of late, they have irritated all heroes of the mega family including Chiranjeevi, Allu Ajrun and Naga Babu in recent events. While the mega star remained cool, other two actors blasted the fans. In fact, SS Rajamouli, Prabhas and few others were also interrupted by these fans.
Darshakudu is a romantic action entertainer directed by Hari Prasad Jakka. Sai Karthik is turning a music composer with this movie, while Praveen Anumolu cranked the camera. Ashok Bandreddi, Eesha Rebba, Pujita Ponnada have played lead roles in the film, which is scheduled to be released in theatres on August 4.