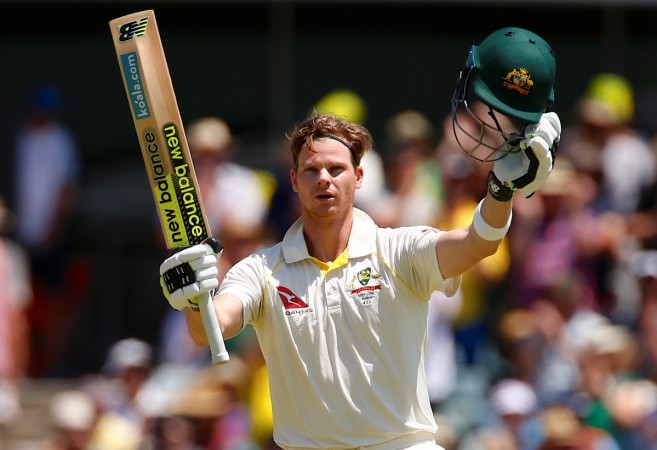 Steve Smith and Virat Kohli are the current top two Test batsmen in International Cricket Council's (ICC) Rankings. These standings aside, experts and fans have their own opinions. Now, a former captain has chosen Smith as the "best" in the longer version of the game.
Today (December 16), Smith continued to torment England bowlers in the third Ashes Test in Perth as he registered his 22nd century. This was the second of the series for him after scoring 141 not out in the opening game in Brisbane.
Captain Smith, playing in his 69th Test, averages over 60, the best among current batsman who have at least played 50 or more matches. Kohli has 20 hundreds from 63 Tests and averages 53.75.
Indian skipper Kohli, 29, is not far behind Smith, 28. Recently, he hit back-to-back double centuries to round off a prolific year across three formats. For many he is the "best" in the business.
Former England skipper Michael Vaughan took to his Twitter account to praise both Smith and Kohli. However, he anointed the Australian right-hander as the "best" in Tests. He declared Kohli as "best player" across the three formats.
"IMO ... @imVkohli is the best player across the 3 formats ... But @stevesmith49 is the best in Tests ... #OnOn #Ashes ... Although I would really like both in the same team ....," he tweeted today after Smith's hundred at the Western Australia Cricket Association (WACA) ground.
Yesterday (December 15), Vaughan had written that Smith had joined Kohli in "freak" category.
Recently, Ricky Ponting, Allan Border, Chappell brothers - Ian and Greg, Shane Warne, had all praised Smith. Warne, however, admitted that it was hard to choose between the two for the top spot at the moment.
Ponting had backed Smith to break his Australian record of 41 Test centuries. The former captain had said Smith is the number one in Tests, putting him ahead of Kohli.