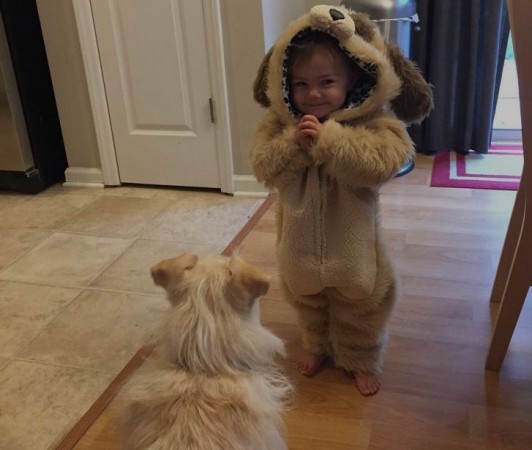 A cute little girl, dressed up for Halloween in a fluffy puppy costume, has become an internet sensation. The photo of the cute girl has become viral on social media and that has led several to comment that she is "plotting world domination."
Her father, with username ProfPuffnStuff on the image sharing site Imgur, shared the photo of the little girl this week and since then it has gone viral. The photo shows the girl wearing a brown, loose-fitting furry onesie with a hood featuring the face and ears of a dog for her Halloween party.
A family dog is also standing in front of the girl in the photo, but what caught everyone's attention is her expression. The evil grin on her face hints that she is up for some mischief.
"My daughter is super excited about the puppy Halloween costume my wife and I made! Priceless reaction," the father captioned the image.
He even shared three images that gave a close look of the mischievous expression. The post on Imgur has gone viral with over 158,793 views, 3,417 points and several comments.
"She's plotting world domination," one user commented. "world Dalmatian," another replied.
"oh hun she's not plotting world domination, she's plotting world destruction..."
"Adorable! And looks parent-well made. You can tell it's comfortable and lined."
"Now let's see the dog's reaction. Mainly so we can see pictures of your dog."
"Oh god, she is so terribly cute and looks so much like she's planning something devious (but cute), prolly involving Unicorns and Rainbows."
"The look of absolute joy... to over the world."
In other news, a dog recently became an internet sensation after the owner dressed her Keki, a Hungarian Puli dog, as a mop for a dog Halloween parade in Covington, Kentucky. The photo of the dog was shared on social media with several people saying that it is the best costume.