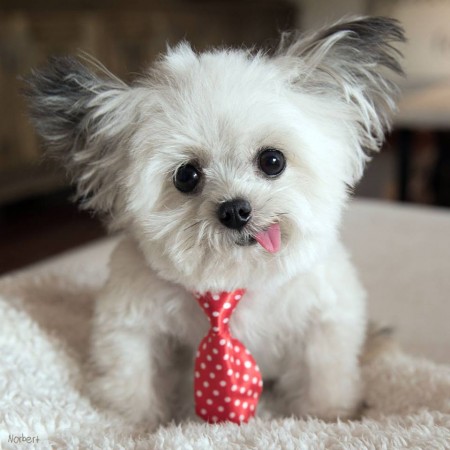 Meet Norbert, one of the cutest dogs on this planet! This cutester is a registered therapy dog who volunteers at kids' hospitals to cheer children up with his heart-melting actions and hi-fives!
Also Read: Mysterious mass animal deaths: Alien hunter raises alarm after 32 cows found dead in Missouri farm
Norbert was born in 2009 with brown fur which transformed to white over the years. His breed is not identified and he is believed to be a mixed breed between chihuahua, lhasa apso and cairn terrier.
This big guy weighs 3.5 pounds and is seven inches tall. His owner Julie Steines trained him since he was one-year-old to make him a therapy dog as he is naturally gifted with a persona to spread joy.
Not just this, there are way too many feathers in this little one's cap -- the first book about him was published in 2013. Another book 'Norbert: What Can Little Me Do?' was published in 2014 and won nine awards.
Also, there are toys which resemble this celebrity dog as a part of a campaign called Noberthood For Good. Whenever a toy is purchased, another one is given away to a kid in need via Toys For Tots Foundation.
Check out the adorable Norbert in this video: