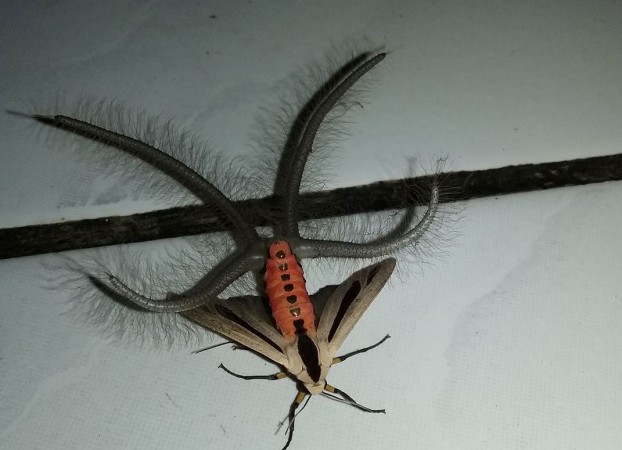 Footage of a bizarre alien-like creature with hairy tentacles has terrified the social media users. The insect, which is found across Asia and Australia, in parts looks similar to a centipede, moth, and caterpillar.
The insect appears to be a moth with four tufted tendrils sprouting out of the huge orange belly. The video of the insect has gone viral on social media and people wondered what on earth it could be.
The creature in question has since been revealed to be a Creatonotos gangis moth. The hairy tentacles or coremata, which only the male species have, are scent organs to attract mates. This moth is commonly found in places like India, Sri Lanka, Japan, Thailand, New Guinea, the Northern Territory and Queensland.
Gandik from Kebumen, Jawa Tengah, Indonesia uploaded the video on Facebook. The video has garnered thousands of comments, shares and views on the social networking site. Several social media users jokingly said that the bizarre alien-like insect had been sent to Earth to destroy the planet, while several other terrified users said that they hate that creature.
"What devilish creature sent to destroy us is this? I'm leaving Earth by the way... anyone coming?" one user commented.
"I'd burn the house down if I saw this" another said.
"Give him the keys and tell him the house is yours."
"Now, this is what I call evolution! I have never seen a moth like this one! I hope this is outside on his patio and not inside with those bugs running around his floor! I hope he doesn't have any kids!"
"I can't begin to describe how much I hate this."
"You'd have to revive me if I stumbled on this one."
"And Stacey Flook posted she'd "rather die than live in a world where this exists."
Watch the video below.