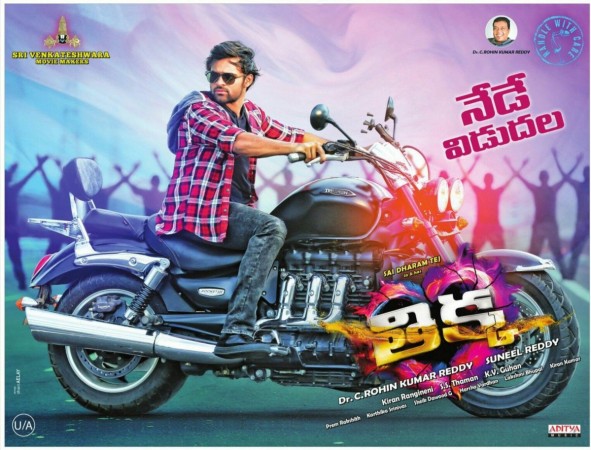 Sai Dharam Teja's highly-awaited movie "Thikka" was released in theatres around the world and received negative reviews and poor ratings from the critics, who are upset with Sunil Reddy's direction.
Aditya (Sai Dharam Tej) is a happy-go-lucky guy and he falls in love with Anjali (Larissa Bonessi). Some complications cause a split between the lovers and they break-up with each other. A depressed Aditya then goes to a break-up party with his friends. A freak incident during the party changes the course of Aditya's life. What happens next forms the crux of the story.
The critics say "Thikka" has a messed-up story. Director Sunil Reddy has tried to engage the audience with comedy that does not have logic. The film has nothing new to offer, and suffers from lack of emotional quotient, apart from too many characters, which is its biggest drawback.
Sai Dharam Tej has done justice to his role and he impresses the viewers with his comedy timing. He is the only saving grace of "Thikka." The movie features a lot of artistes, but there is little substance to their parts. Mannara Chopra, VJ Bani, Larissa Bonesi are glam dolls, while Rajendra Prasad, Ali and a few other talented actors have nothing much to do in the film.
"Thikka" has decent production values, which is the other saving grace of the film. Thaman's music and camera work are the attractions on the technical front. The movie has been rated at an average of 1.45 out of 5 stars. We bring you some critics' verdicts and ratings for the film. Continue to see them in Thikka review roundup:
Thikka is one film which Sai Dharam Tej should immediately erase from his memory. He should stay away from scripts like these which can spoil his career big time. Except for his sincere performance, this film has absolutely nothing to offer in any which way possible. Stay away from this one, otherwise, you can end up losing your mind.
In an attempt to make a comedy of confusion, the writer-director duo introduce many characters, but between them, they are too much. With some characters having more than a shade, it's crowded.
Seems Tollywood is facing some bad time yet again. After 'Babu Bangaram', now 'Thikka' has also gone for a toss as the movie is considerably bad. The movie never has any emotions and the logic can never be found anywhere on the zone. Sunil Reddy's direction is terrible. First half of the movie is completely avoidable and second half is better than the first.
Not only the film looks bad but also the hero looks weak in this film. Sai Dharam Tej looked uninterested and as if he is aware of the end result. Sunil Reddy could have made it a quirky comedy like Hangover, but with so many characters and badly written scenes, all that he could do is to show the extremes of cinematic torture.
Sai Dharam Tej's characterisation feels repetitive. 'Thikka' is a letdown for him after strong commercial packages like Supreme and Subramanyam For Sale.