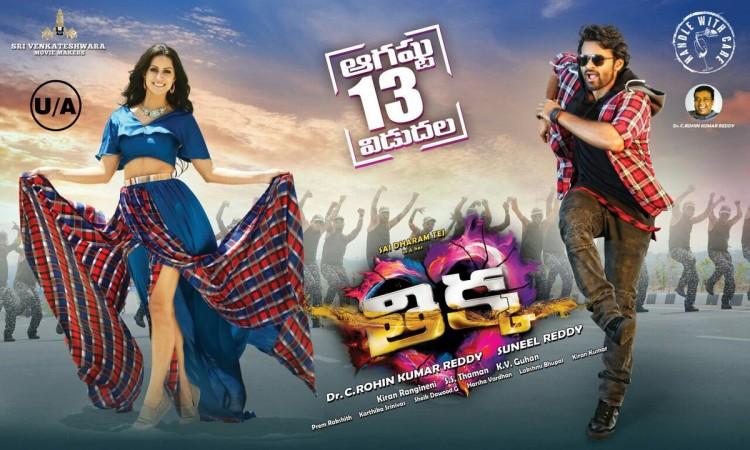 Director Sunil Reddy's Telugu movie "Thikka," featuring Sai Dharam Tej, Larissa Bonesi, Mannara in the lead roles, has received mixed reviews from the audience around the world.
Thikka Movie Stills | Thikka Audio Launch | Thikka Funny Memes go viral
"Thikka" is romantic action movie with all other commercial ingredients to impress the masses. Sheik Dawood has written the story and screenplay, while Lakshmi Bhupal and Harsha Vardhan have penned the dialogues. The movie revolves around the love story of Aditya (Sai Dharam Tej), who allows his two friends to help him deal with a nasty breakup. How they try to party their way through it forms the crux of the story.
Sai Dharam Tej, Larissa Bonesi and Mannara have done justice to their roles and their performances and chemistry are the highlights of "Thikka." Rajendra Prasad, Rao Ramesh, Ali, Posani Krishna Murali, Ajay, Vennela Kishore, Thagubothu Ramesh, Mumaith Khan and Sapthagiri's performances are said to be the assets of the film.
"Thikka" has been produced by Dr. Rohin Reddy under the banner Sri Venkateswara Movie Makers and the movie has decent production values. S Thaman's music, camera work, action sequences and choreography are the attractions on the technical front, add the audience.
We bring to you some viewers' verdict shared on Twitter. Here is the live update of "Thikka" movie review by audience:
Das C H ‏@chs_dass
#Thikka ok 1st half though there is no story and all but it is some what diff from regular commercial film.Music,SDT performance were good. #Thikka below average 2nd half need so much patience to watch this lengthy comedy track..almost half of the people walked out from theatre #Thikka overall it is a diff film but still cannot be digested by many...below average for me.
SSRK ‏@SSRKTweets
#Thikka Is Having Some Laughs, Beautiful Songs & the main drawback for A fun ride movie is Screenplay & Here Also It Was Happened.
PawanKalyan ‏@kapilvarala
#Thikka Good frst half. Avg sec half. . @IamSaiDharamTej comedy timing kekka. Styling rachaa. Loved it. Nak nachindi ♡♡
MyTollywoodMovies ‏@mytollymovies
1st half. Not great but not boring either. Some good twists and bad comedy. Can b this wk's winner if 2nd half stnds out. Slightly btr than 2nd half starts with comedy track. Not bad Confusion episode starts. Comedy scenes going on Final episodes canned well. Generating some laughs Movie ends on happy note.
Telugu360 ‏@Telugu360
#Tikka is one of worst movies this decade. Utterly ridiculous. How can @IamSaiDharamTej , Rajendra Prasad, Ali accept such mediocre roles? @IamSaiDharamTej hardwork from last 4 years goes down the drain. Huge momentum killer for his career when he has 25 Crore market. #Thikka
ॐ Deepak ‏@DeepakKodela
1st half is Crazy to the core #Thikka Hilarious Climax #Thikka Hangover style Comedy. Crazy to the core #Thikka Finalga Title ki Thaggattu #Thikka Thikkaga undi. Last 20 minutes Edo small relief Inni Crazy Characters oka single Movie lo ante Telugu cinema history lo 1st time anukovali #Thikka
Sri Rama Sampath V ‏@sampathfeb15
#Thikka first half complete till now good hope second half will entertain well
Sanjay™ PSPK Freak ‏@SanjaySOfficial
1st Half Done...Songs Nd Comedy Also Interval Bang Good..:) @IamSaiDharamTej Comedy Timing @MusicThaman BGS #Thikka 1st Half:- Good :) 2nd Half :- Okay Leave It..! Movie Flop..But Still #SDT Eh Mega Alludu..Anthe Kaani Evadoo Gottam Gaadu Ayte Kaadu..
Arawind ‏@Areddy207
Different concept but still entertainment is very good in #Thikka first Half @IamSaiDharamTej @larissabonesi @rohin_reddy @SaiDharamTejfan In dirty pictures song @IamSaiDharamTej dance moves are too good..... Loving #Thikka movie complete @larissabonesi @rohin_reddy Hilarious climax in #Thikka I just loved the whole movie.... One more hit for @IamSaiDharamTej @rohin_reddy @larissabonesi @memannaraLoved @memannara role in #Thikka though her role is small but she entertained till d end of the movie... @IamSaiDharamTej @rohin_reddy
Superstar #Kabali ❤️ ‏@genuinestart
#Thikka is abt Love, Break ups ,boozing , comedy & Gud Songs, Glamour..Its a Youthful movie #Thikka is a movie for Youth & not a movie for the Age bar people like u..
Jagadish kumar ‏@Jagadeesh_bunny
First half kick u le Second half Yeh thokka le Total ga pedda bokka le @IamSaiDharamTej #Thikka
venkyreviews ‏@venkyreviews
#Thikka Overall a disappointing fare. Very weak screenplay and poor direction. Only few comedy scenes worked. A flop for @IamSaiDharamTej
ctalluri ‏@cstalluri
#Thikka starts engaging from pre interval and continues till climax . Would have been more interesting if enough care had taken in the cont. ... first half. #sunilreddy always presented the twist in likable format and continued the same in this movie too .
cinemagala ‏@cinemagala
Starts on an interesting and different note does #Thikka . @IamSaiDharamTej makes an entry as Aditya. 2 songs within 5 minutes, #Thikka Wohooo and it is break up in just the 3rd meeting. #Thikka #Thikka #Thikka gunnadhee #Thikka going flat with no much story
Ravi kiran ‏@kinnuPSPK
Neekosam song #Thikka #SDT styling & dance
Iamonfiretomydestiny ‏@Iamonfiretomyde
#Thikka super pace lo velthundi movie .jr Chiru ni chusinatlundi BGM and comedy peaks in first half. #Thikka dance moves in songs are superb.first half superb vundi waiting for second half. #Thikka new megastar for TFI bunny Babu ika Sardinia #SaiDharamTej .comedy timing peaks #Thikka pre climax confusion comedy baga workout avuthundi but climax night effect camera pedda biscuit #Thikka my rating 3.25/5 new megastar on the way .confusion comedy with race screenplay and BGM .Good movie for #SaiDharamTej
Pandu ‏@pandu_kdp
#Thikka first half disaster .. from proddatur shows..
Lahari ‏@Lahari_S
@IamSaiDharamTej in #Thikka Mashup of #BhaleManchuRoju & #theHangover but enjoying @sreekaanthpolu
Easwar ‏@sidhusagi
#Thikka Review: Ok Leave it! DISASTER amma #SDT
Jalapathy Gudelli ‏@JalapathyG
#Thikka: Thikka to the power of thikka. Unbearable.
RJV ‏@RJV4U
#Thikka is a bad film ..Title ni baga justify chese film...Over and out!!!