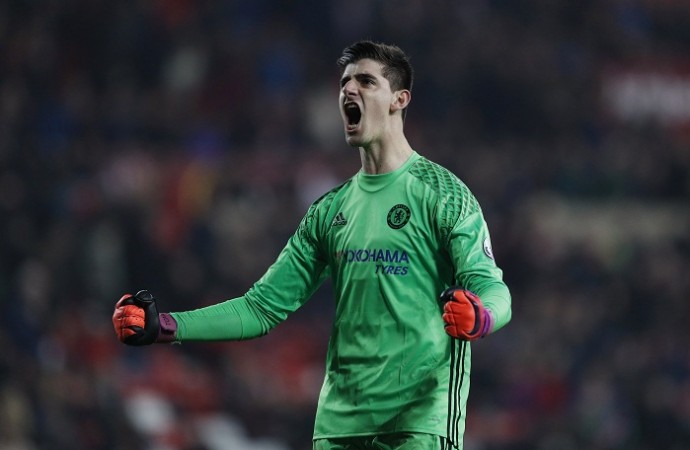 Former Chelsea and current Real Madrid player Thibaut Courtois might have sparked a controversy when he said the level of football in Madrid is higher than Chelsea.
It was always going be pointed statements as the Belgium international never tried to hide his joy in joining Madrid. This recent comment is yet another jibe, one that might not go down well the Stamford Bridge-faithful.
'In training, you see that the level at Real Madrid is high,' said Courtois. 'I am now experiencing on a daily basis that [Sergio] Ramos is the best centre back in the world. The level at Real Madrid is higher than at Chelsea,' Courtois said.
Bagged a £35 million transfer to the La Liga giants
The 26-year-old goalkeeper had always wanted a move to Spain where his family is settled and he finally got the offer. He was part of a £35 million transfer to the La Liga giants during the transfer window season.
"[The Santiago Bernabeu] is twice as big [as Stamford Bridge], of course, it's a very different feeling. If you look forward you only see a wall of people, while at Stamford Bridge you can still see the sky or the hotel behind the grandstand," he further added.
He has not managed to claim the number one goalkeeper spot in Madrid as of now and has featured in a solitary game this season.
Well, Twitter took note of the comments and several Chelsea fans lashed out at the player for comparing the two clubs at a time when it was his decision to leave Chelsea in the first place.
As a @ChelseaFC fan we get called many things and to be honest some of it is fair but as a group of fans the way we treat a player who leaves is up there with the best but I have a feeling #courtois will be completely different guy is an absolute melt who deserves nothing

— Keith Anastassiades (@33wolfman) September 3, 2018
Ah, nothing better to see on a Monday than Courtois still rambling on about us after *finally* making his Madrid debut. Not sure why he constantly feels the need to aim snide remarks in our direction?

— WAGNH (@WAGNH_CFC) September 3, 2018
Wow, Courtois is making it so easy to hate him. The capacity at the Bernabeu might be bigger than Stamford Bridge but only 48.000 showed up for their first home game of the season while 41.000 filled the Stamford Bridge. Pipe down giraffe and enjoy your half empty stadium.

— Kantinho (@Kantedinho) September 3, 2018
However, adrift from all these comments, FIFA recently included Courtois along with Hugo Lloris and Kasper Schmeichel in its three-man shortlist for The Best FIFA Goalkeeper award on Monday, The winner will be announced at FIFA's upcoming ceremony on September 24 in London.