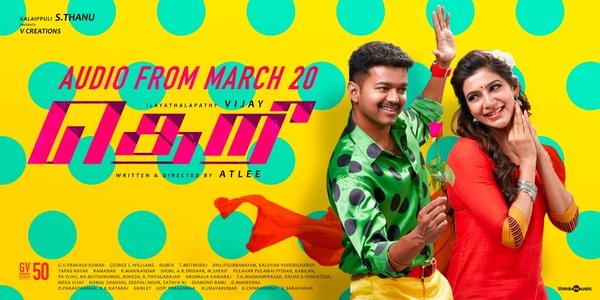 The audio and the trailer of Vijay-starrer "Theri" will be released Sunday, March 20, at a grand event held at Sathyam Cinemas. It will be unveiled in the presence of special guests and cast and crew of the Tamil film.
Read: Theri music review | Theri Audio Launch Photos
GV Prakash Kumar has composed the music for "Theri." The movie has seven songs. Thenisai Thendral Deva, Balachandran, Hariharan, Saindhavi, Vaikom, Vijayalakshmi, Uthara Unni Krishnan, Neethi Mohan, Bombay Jayashri T Rajender, Sonu Kakkar and Arunraja Kamaraj have crooned the numbers.
Actor Vijay and GV Prakash Kumar have also lent their voices for special songs in the movie. Rokesh, Na Muthu Kumar, R Thiyagarajan, PA Vijay, Arun Kamaraj, Kabilan, Pulavar Pulamaipithan and Kabilan have penned the lyrics.
It is a special album for GV Prakash Kumar as it is his 50th movie as a music director. Hence, he has taken lot of time to churn out the songs. Find the track list below:
Si.No
Song Name
Singers/Lyricists
1
Jithu Jilladi
Thenisai Thendral Deva, Balachandra.
Lyrics: Rokesh
2
En Jeevan
Hariharan, Saindhavi, Vaikom Vijayalakshmi.
Lyrics: Na.Muthu Kumar, R Thiyagarajan (Sanskriti)
3
Eena Meena Teeka
Uthara Unni Krishnan, GV Prakash Kumar,
Lyrics: Pa.Vijay, Arunraja Kamaraj (RAP)
4
Chella Kutti
Vijay, Neethi Mohan.
Lyrics: Kabilan
5
Thaimai
Bombay Jayashri
Lyrics: Pulavar Pulamaipithan
6
Raangu
T Rajender, GV Prakash Kumar, Sonu Kakkar.
Lyrics: Kabilan
7
Dub Theri Step
Arunraja Kamaraj
Lyrics: Arunraja Kamaraj
Live Updates:
Here, we bring to you live updates of "Theri" audio and trailer release event:
9.15 pm: It's time for the release of trailer of "Theri". The video features Vijay in four different styles. Mahendran is the surprise package and don avatar looks deadly. The trailer is slick and it shows Theri will be an entertainment package. With this the event ends.
9.00 pm: Vijay finally takes the centre stage and fans' cheer reaches sky. He thanks the entire crew of Theri. He says Thanu is like a lion on the run to hunt a deer. The movie has two heroines. One is Selfie Pulla, while the other is Kulfi Pulla. I wish all my fans achieve many heights. You don't have others as your benchmark. Be benchmarks yourself.
8.40 pm: Atlee says my wife Priya suggested Nainika for Theri. She is seen in 40 scenes. Samantha is a powerhouse of talent and she has given a great performance in the movie.
8.30 pm: Director Atlee says I waited patiently to work with Vijay in Theri, which features his romantic and mass look. It shows his unique side his family and friends know. Theri is about a good father and his daughter and there is nothing controversial in it. The film is about how important fatherhood is. There is a 40-second dance in "Jithu Jilladi that will impress his fans.
8.20 pm: Producer Kalaipuli S Thanu says I was confident about Theri when I heard the first half. Insisted that I won't listen to second half. Theri will hit the screens this April. It will be the biggest blockbuster I have produced. It will rock the Andhra and Telangana box office too. It will be to Tamil cinema, what Baahubali was for Telugu cinema.
7.50 pm: Music director GV Prakash is welcomed on the stage. He says I composed Theri album with sole reason for Vijay fans to go crazy in theatres.
7.50 pm: Amy Jackon finally arrives on the stage and says I was a big fan of Vijay much before I started my career. Vijay's dance moves are second to none. But choreographer Sherief helped me match up to him. Vijay also helped me a lot to match steps alongside him.
7.40 pm: The making video of the song "Raangu" is shown at the audio launch of Theri. Fans go crazy over the song.
7.30 pm: Mahendran says I Was astonished at Vijay doing risk action sequences. Later, talking to Vijay's he says you guys should be proud and lucky.
7.15 pm: Mahendran says, "I never expected to be offered an opportunity to act in Theri. You've shown the world through your films, I'd like to show you as an actor to the world. I couldn't refuse the offer to act when Vijay was happy to have me in Theri.
6.45 pm: An AV on veteran filmmaker Mahendran is played and later he is welcomed on stage. He has donned a new avatar Theri.
6.30 pm: Dagamari Rokesh, who has penned lyrics for "Jithu Jilladi", talks about the song, which is featured in the second half of Theri.
6.20 pm: Along with Meena, Nainika, who has played Vijay's daughter, takes the centre stage and says she loves Vijay Auncle.
6.10 pm: En Jeevan lyric video is now being showed at Theri audio launch.
6.00 pm: VJ Ramya, who is hosting the audio launch, kick-starts the event and says Theri tipped to be made on a budget of Rs 70 crore.
5.50 pm: Ilayathalapathy Vijay arrives with his family at the audio launch of Theri. Vijay waves handles at his fans with his trademark smile.
5.00 pm: Satyam Cinemas is overflowing with enthusiast film goers. Every Vijay fan is eagerly waiting to have a glimpse of their favorite star at the Theri audio launch