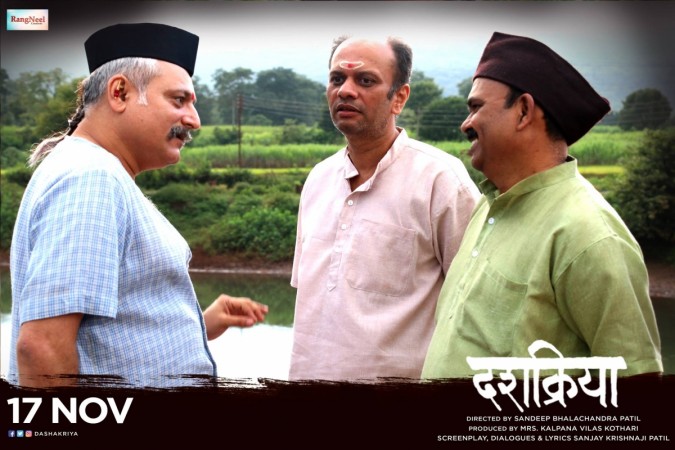 Sanjay Leela Bhansali's Padmavati is not the only film to face protests over its release. Award-winning Marathi film Dashakriya received backlash from Brahmin groups in Pune, but the film managed to hit the screens on November 17.
Sandeep Patil's directorial debut Dashakriya is centred on the Kirvanta Brahmin community, ehose members perform the last rites of Hindus. The movie shows how members of the community financially exploit the family of the deceased.
The representatives of Brahmin and barber communities filed a petition in the Aurangabad bench of the Bombay High Court seeking a ban on the release of the film, claiming the film "hurt their sentiments." However, the court quashed the petition a day before the release of the film.
The Akhil Bhartiya Brahman Mahasabha and Hindu Janajagruti Samiti also objected to the release of the film and said it would create hatred among castes. ABBM president Anand Dave had demanded that the film be screened for some people before the release, but the director refused to screen the movie for any group.
There were protests even in Nashik and Aurangabad, and the advance booking of the film was stopped at a few cinema halls on Thursday. However, theatre-owners in Pune unanimously decided to screen the film on Friday.
The director said the filmmakers had incorporated a disclaimer in the film and was not expecting Brahmin groups to protest against the release of the film.
"I never expected that people would tell me that I have insulted people of a particular class or caste," Patil told Scroll.in. "A lot of people have been calling me to ask me how I could even deign to make such a film. I still speak with them, because I feel I should."
The National Award-winning Marathi film is the second to face such protests recently. Bhansali's Padmavati has received backlash from several fringe Hindu outfits for "hurting Rajput pride."
The protests and death threats to Deepika Padukone and Bhansali have forced the makers of Padmavati to change the release date of the film.