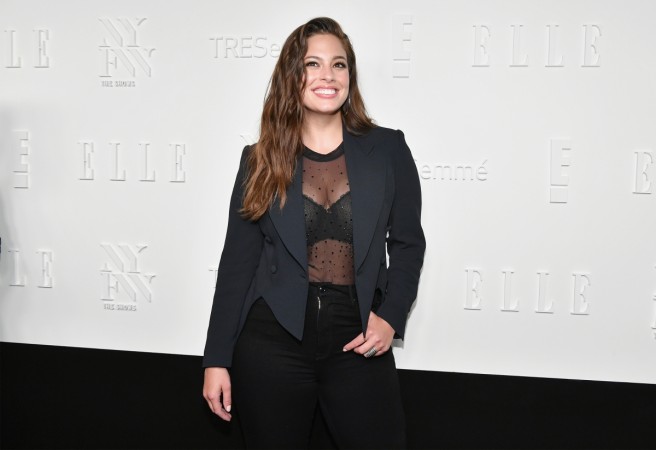 Boy, oh boy! Ashley Graham sure knows how to set Instagram on fire. The plus-size model recently posted a couple of pictures flaunting her ample assets that would definitely leave pulses racing.
America's Top Model is back and announcing the return, Graham posted two raunchy pictures that gave fans an eyeful of her hourglass figure.
Also read: Ashley Graham dons lacy lingerie to flaunt ample assets while channelling the 1960s
The 30-year-old is seen wearing a low-cut black leather dress that perfectly sits on her body. The jaw-dropping outfit sported a deep neckline revealing her cleavage. The skintight dress sported a belt around her voluminous waist while her curves protruded below.
Beneath the leather outfit, Graham wore a laced-up undershirt featuring a plunging neckline, giving fans a sneak peek into her bra.
In the shot, Graham chose to let her curly long brunette locks fall off her shoulders. Complementing the stunning dress, she resorted to a pair of fabulous statement earrings that evidently stood out in the shot.
She matched her earrings with silver shimmer eye-shadow and coloured her lashes with some black mascara highlighting her gorgeous eyes. She dabbed some pink colour on her lips in the shot.
"@antmvh1 GLAM.. did you get to watch the makeover episode tonight?!?!' the model wrote in the caption."
Graham is accompanied by judges include Paper magazine's chief creative officer Drew Elliott and celebrity stylist Law Roach on the show. The 24th season premiered on January 9 with Tyra Banks making a return to the show.
Previously, Fifty Shades Freed singer Rita Ora was given the hosting duties. The new season has removed the restriction of age. Previously, women above the age of 27 were restricted from participation.
Talking to People.com earlier this month, Graham discussed the new ANTM season and revealed her experience of working with Banks. "She knows the ins and the outs," referring to Banks.
"When we had to go and do all of our lines I mean she killed it every time. I was taking mental notes every single day... She's just amazing and she's also a great mentor. I could call her right now, and be like, 'Okay girl, what would you do in this business decision?' and she would be like, 'I would do this,'" she said.