The US President Donald Trump may want to use "that good old Global Warming" to get some comfort on a cold winter morning, but his obnoxious disbelief of climate change can't negate the fact that the Earth's surface temperatures continue to rise.
Trump ended 2017 by mocking climate change experts yet again on Twitter when he tried to imply that record low temperatures this winter are proof that science behind global warming is a hoax. But an extremely cold weather is what one would expect in a warming planet, and "the coldest New Year's Eve on record" that Trump was talking about was, in fact, a strong indication of a "long-term warming trend" that continued over the last year.
In their latest reports, both NASA and the National Oceanic and Atmospheric Administration (NOAA) have stated that 2017 was one of the hottest years ever since record-keeping began in 1880. While NASA said in its report that 2017 was the second warmest year since 1880, NOAA report concluded that 2017 was the third-warmest year on their record.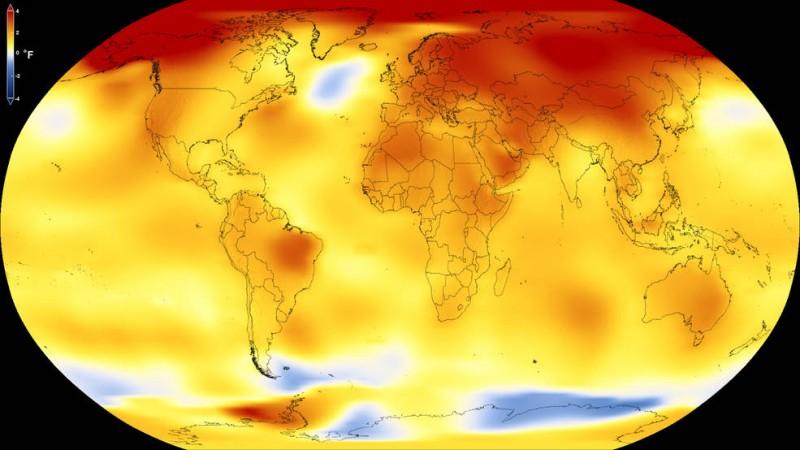 According to NASA, the worldwide average temperatures in 2017 were 1.62 degrees Fahrenheit (0.90 degrees Celsius) warmer than a baseline mean temperature calculated from the global average each year between 1951 and 1980. That makes it the second-hottest year on record behind only 2016.
The NOAA study, on the other hand, estimated that the average temperature across global land and ocean surfaces in 2017 was 1.51 degrees Fahrenheit (0.84 degrees Celsius) above the 20th-century average, making it the third highest among all years between 1880 and 2017, behind 2016 and 2015.
Although there is a difference in rankings, which was attributed to different methods used by the two agencies to analyse global temperatures, the records remain in strong agreement when assessed in the long-term, NASA said, adding that both analyses show that all the five warmest years ever recorded were recorded after 2010.
"Despite colder than average temperatures in any one part of the world, temperatures over the planet as a whole continue the rapid warming trend we've seen over the last 40 years," Gavin Schmidt, director at NASA's Goddard Institute for Space Studies in New York, said in a statement.

Weather phenomena such as El Niño and La Niña can cause short-term variations in global average temperature. In fact, a warming El Niño instances during 2015 and in the first third of 2016 are believed to have played a major role in making the year the hottest on record.
There was no El Niño in 2017, and a La Niña event emerged in the later months of 2017 instead. Yet, last year's temperatures are still ranked among the hottest ones. If the effects of the recent El Niño and La Niña patterns were statistically removed from the record, 2017 would jump to the top of the charts.
While warming trends affected the vast majority of the planet last year, the Arctic regions were the hardest hit as they continued to witness a serious loss of sea ice.
"The annual Antarctic sea ice extent was record small for the year at 4.11 million square miles. This was about 154,000 square miles smaller than the previous record set in 1986. The Antarctic sea ice extent was record low for five months of the year and reached its smallest minimum extent on record in early March," NOAA said in its report.