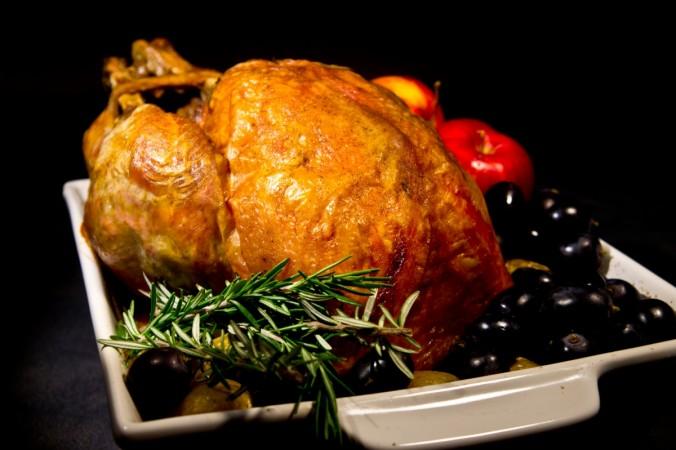 Thanksgiving is upon us and as always, Hollywood stars are kicking up elaborate dinners and parties. Here are a few of our favourite celebrities and their celebrations.
Starting off is Nick Jonas and Priyanka Chopra. The singer flew all the way to Delhi to celebrate at Chopra's home. While the holiday in itself is not observed in India, Chopra shared a few pictures of their meal and a vast dinner table on Instagram.
In one post, she can be seen nuzzling Jonas' neck, with the caption, "Welcome home baby..." Later that same day, she posted another picture of Jonas seated at the head of her table. "Happy Thanksgiving, family.. forever.."
Moving further West, Meghan Markle in the UK will be celebrating her first ever Thanksgiving in England. The Duchess of Sussex is reportedly excited to share this American tradition with the Royal family, reports Hollywood life.
"Meghan is so excited to share her American traditions with her new British family. As the birth of her first child quickly approaches she feels it is important to hold onto and pass down her heritage while also embracing her new life in the UK. Therefore, starting with her first holiday as a Royal, she is determined to share with Harry some of her favourite traditions. And Harry absolutely encourages it," said a source close to Markle.
"When it comes to Thanksgiving it's definitely in Harry's best interest to be supportive because Meghan is an amazing cook and she loves to bake. She's famous among friends for her baking and she always does the best vegan pumpkin pies for Thanksgiving," said the source.
Back in Hollywood, Hailey Baldwin and Justin Bieber had a special celebration that merged both Baldwin's birthday as well as Thanksgiving. Baldwin turned 22 and both families came together to support the young couple. In a video shared by Pattie Mallette, Bieber's mother, Baldwin can be seen cutting a cake and the rest of the family singing along.
Oprah Winfrey, one of the stars known for throwing lavish parties, outdid herself this year. In an Instagram video, Winfrey showed her kitchen and her turkeys getting smoked and the general vibe of her family.
Chef Kenny Gilbert was roped in again to help with the feast. "This is what? The fourth year you've come here? Four years in a row Chef Kenny has come from Gilbert's Underground..." she can be heard saying in the video.
"Zoom in! Turkey is smoking! And all I'm going to do at the end is I'm going to add a little garnish..." she continued, "Happy Thanksgiving!"
Khloe Kardashian celebrated Thanksgiving with the father of her child Tristan Thompson. Amid speculation of the couple's breakup, the three seemed to have come together for this rather special day of giving thanks.