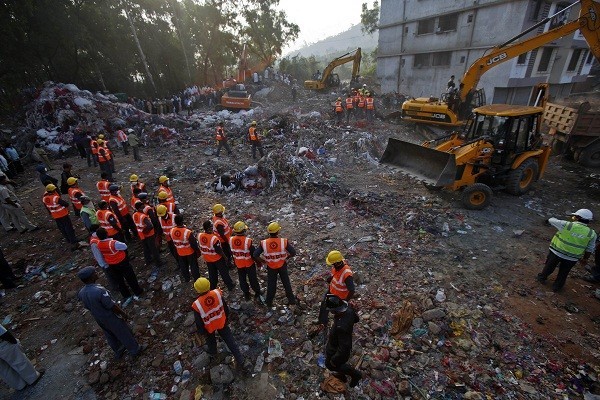 In a shocking revelation, police probing into the illegal building collapse in Thane have confirmed that the builders had bribed civic officials to keep mum on the construction of the illegal building.
"We found that civic officials were repeatedly bribed. Even police constable was also bribed... After Anti-Corruption Bureau raids, we found ₹5 lakh from the residence of Deputy Municipal Commissioner Deepak Chavan... Hira Patil, local NCP corporator took bribe from the accused," Police Commissioner KP Raghuvanshi said in a press conference on Sunday.
"A big racket has been unearthed. Builders were pushing people to stay in the building so that it is difficult to demolish the place," Raghuvanshi added.
So far, cops have arrested nine accused including two builders in connection with the collapse of a seven-storied building in Thane that killed 74 people and injured more than 60.
Builder Jamil Qureshi was arrested in Siddharth Nagar district in Uttar Pradesh, while Salim Shaikh was detained in Thane. Police have charged the builders with culpable homicide not amounting to murder.
"We have taken into custody builders Jamil Qureshi and Salim Shaikh. An FIR was registered against them for culpable homicide after the seven-floor building collapsed Thursday," Raghuvanshi told a news agency on Saturday.
Police also arrested top civic officials including Deepak Chavan, suspended Thane civic agency's deputy municipal commissioner who was in-charge of the illegal construction, Assistant Municipal Commissioner Balasaheb Andhale and NCP corporator Hira Patil.
Almost 24 hours after the incident happened, senior inspector of Daighar police station, Kishor Naik, was suspended. The case was handed over to the Thane crime branch which will be interrogating the accused, according to Ashok Dudhe, deputy police commissioner, zone 1, Thane.
A team of experts from the Kalina forensic science laboratory collected cement, brick and steel samples from the spot to find out if substandard materials have been used to construct the building.
"While there have been allegations that substandard material was used in the building's construction, we have to prove that in a court of law. And if we have to make a strong case against the accused, the FSL report becomes vital," an officer told a leading daily.
The illegal seven-storied building, located in Lucky Compound in Shilphata area on the outskirts of Thane city, collapsed around 6.30 pm on Thursday. Seventy four people including 30 women were killed in the incident. More than 20 children died in the tragedy and about 62 people have been injured. The injured have been admitted to various hospitals in Thane, Kalwa and Mumbra.
On Saturday, authorities called off the rescue operations. According to reports, a 65-year-old woman was rescued after she was trapped inside the debris for at least 36 hours.