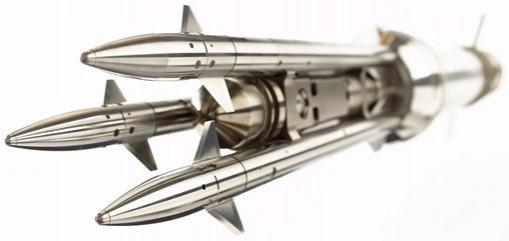 Thales, a multinational company that provides services for aerospace, defence and transportation has sized up an opportunity in the India's "Make in India." The company announced the signing of a Memorandum of Understanding with the government's Bharat Dynamics Limited (BDL) to explore prospects to jointly make Starstreak missile under technology transfer at Aero India 2017 on Tuesday (Feb 14).
Aero India 2017 Day 1: Manohar Parrikar inaugurates the show; indigenous aircraft hog limelight
The Starstreak missile is reportedly the fastest short-range surface-to-air missile in the world, with speed reaching up to Mach 4, Army Technology reported. The missile has a three-dart configuration and can target any fast-moving aerial target. Currently there is no counter measure to jam it. The missile can be used in a Man Portable Air Defence System (MANPADS) role as a single or multi-launcher configuration.
The missile is also integrated with a range of Radar, IR Sensors, and Command and Control systems. Further, it can also be integrated into light and heavy High Mobility Vehicles.
Alex Cresswell, Executive Vice President for Land & Air Systems activities at Thales, said that the company was "proud" to join hands with BDL and he was also thankful to the support from the UK government for the initiative. "Sharing technology has been one of the key ingredients of Thales' strategy for India. We would continue to work in this direction and realise our objective to make in India and export from India through such endeavours," he added.
The missile is currently in the service in the UK, South Africa, Thailand, Indonesia and Malaysia.
Thales has an exhibitor stall at Aero India 2017 and is showcasing SYNAPS-H and SYNAPS-A, AMASCOS, SEARCHMASTER, Spy'ranger and Starstreak missile.