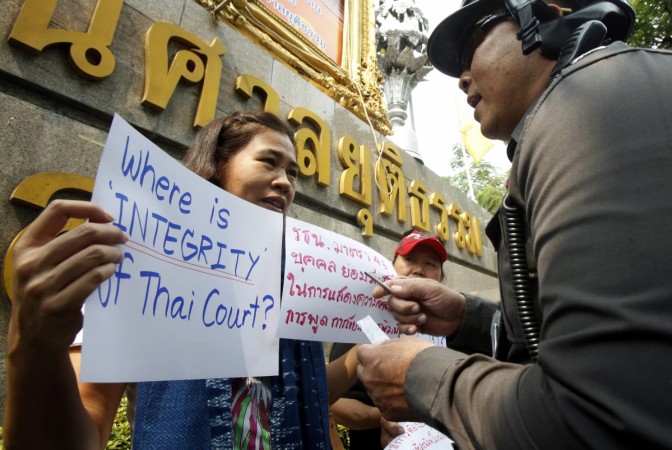 Former Pheu Thai Party MP Prasit Chaisrisa has been sentenced to two-and-a-half years in prison after a criminal court found him guilty of lese majeste on Wednesday.
Lese majeste is a crime relating to the insult of the sovereign of the state, and Thailand is said to have some of the strictest laws to guard the royal family from any indignity or insult.
Chaisrisa was accused of insulting the monarchy during a speech on 7 May titled 'Stop Overthrowing Democracy', according to Bangkok Post.
Chaisrisa was sentenced under the dreaded Section 112 of the criminal code, which condemns anyone who 'defames, insults or threatens the king, the queen, the heir-apparent or the regent' to up to 15 years in jail.
Chaisrisa had earlier denied the charges but later confessed to them, thus halving his initial jail term of five years, as per the Post. He has already served six months in jail since his arrest on 29 May, during which he was never given bail.
Thailand's laws state that "the King shall be enthroned in a position of revered worship and shall not be violated. No person shall expose the King to any sort of accusation or action."
The laws have been used several times for sometimes petty offences. Last year, journalist Somyot Prueksakasemsuk was sentenced to 10 years in jail for two controversial articles, and in 2011, a 61-year-old man was sentenced to 20 years for sending text messages deemed as being offensive to the queen, BBC reported.
The military government, which came to power this year after a coup has further pressed for prosecution of those who criticise the royal family.
Human rights groups have condemned the lese majeste laws.
"Authorities in Thailand have in recent years increasingly used legislation, including the lese majeste law, to silence peaceful dissent and jail prisoners of conscience. There has been a significant increase in lèse majesté cases since the 22 May coup. This draconian law should immediately be suspended and revised so that it complies with Thailand's international human rights obligations." Amnesty International had said.