In a horrifying turn of events, at least 26 church-goers died and many others were injured when a gunman open fired in a small church in Texas.
Among the many killed, the youngest victim was a boy aged just five. A pregnant woman was also reportedly one among the victims.
The gunman has been identified as one Devin Patrick Kelley.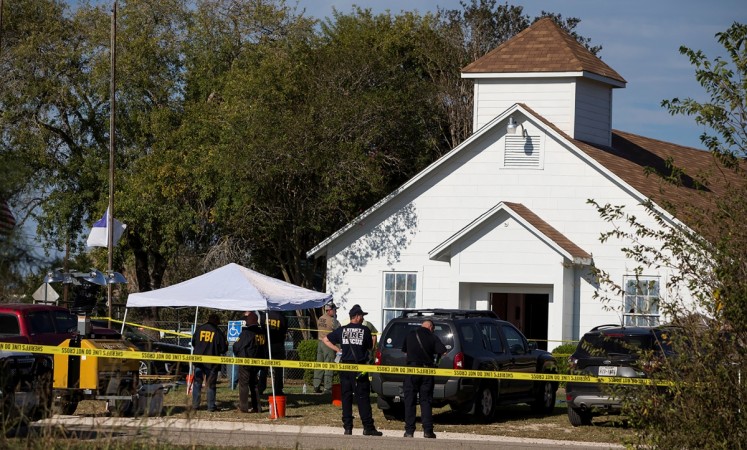 As soon as the news broke, heartbroken Hollywood stars and celebrities from different fields took to social media platforms to condemn the attacks and pleaded that gun-control be put in place soon.
Texas shooting: At least 26 dead, 20 injured in church attack; gunman killed
Big Little Lies star Reese Witherspoon was one among many celebrities who expressed their thoughts on the firing. She tweeted: "I am absolutely heartbroken over the shooting today in #SutherlandSprings Texas. #PrayForTexas #EnoughIsEnough #StopGunViolence. [sic]"
Sarah Silverman aksed why nothing is being done about mass shootings despite several incidents in the past. "When a plane crashes, air travel becomes exponentially safer bc of the lessons learned. But 1 mass shooting after another... nothing, [sic]" she said.
Ellen DeGeneres echoed similar thoughts when she tweeted: "The world can feel hopeless, but it's not. We have each other. We have the power to act, for Texas, for Las Vegas, for Orlando. For us all."
Many other celebrities showed supports and prayed for the victims and their families.
Here is what they said:
My heart breaks over the news coming out of Texas ? My prayers are with the Sutherland Springs community ?

— Britney Spears (@britneyspears) November 5, 2017
No words. My heart is broken for Sutherland Springs, TX and for 2017 America. Please let's all come together

— Sarah Silverman (@SarahKSilverman) November 5, 2017
My heart hurts for the people of Sutherland Springs, Texas. This has to stop.

— bob saget (@bobsaget) November 5, 2017
Canadians send their condolences to those affected by today's tragic church shooting in Texas - we wish a full recovery to the injured.

— Justin Trudeau (@JustinTrudeau) November 5, 2017
Innocent people go to church on Sunday to honor their God, and while doing so, get shot in killed. What country? America. Why? Republicans.

— Chelsea Handler (@chelseahandler) November 5, 2017
How many more have to die before we enact sane gun control laws?

— Stephen King (@StephenKing) November 5, 2017
Love to the dear folks and families and friends to those lost in today's Sutherland Springs shooting. We are all in this together.

— Mark Ruffalo (@MarkRuffalo) November 5, 2017
We grieve with all the families in Sutherland Springs harmed by this act of hatred, and we'll stand with the survivors as they recover...

— Barack Obama (@BarackObama) November 6, 2017
Americans again murdered in a place of worship. Jill and I send our prayers to Sutherland Springs.

— Joe Biden (@JoeBiden) November 6, 2017