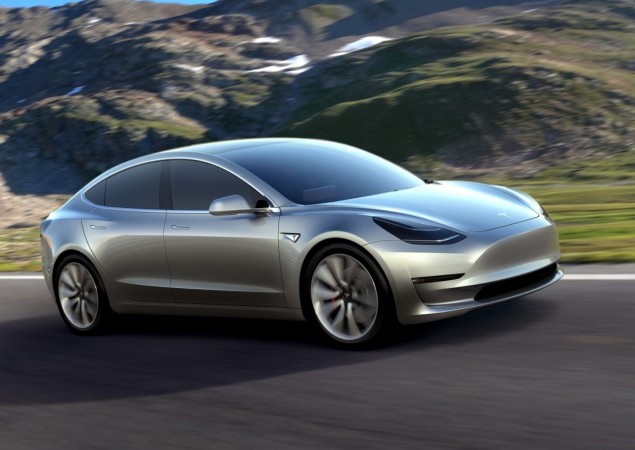 California-based electric car specialist Tesla Motors unveiled Friday, March 31, the Model 3 electric car, which is the most affordable car of the company and targeted at diverse markets. At the event in its design centre in Hawthorne, California, Tesla CEO Elon Musk said the car's price starts at $35,000 — approximately Rs. 23 lakh — and its production is expected start in late 2017.
Musk also said 1.15 lakh pre-orders had already been received in the past 24 hours for the car. The Model 3 is five-seater car inspired by the design of the bigger sibling, Tesla Model S. Being a pure electric car, the Model 3 comes without a front grille, which is present in any car powered by a forced induction engine. The four-door vehicle has been confirmed with standard Autopilot hardware (autonomous driving functionality) and supercharging capability.
As for performance, the Model 3 will run from standstill to 100kmph in less than six seconds and comes with the range of 346km in one full charge. The company will reportedly increase the range when production begins. Musk also pointed out that the Model 3 will be more spacious and comfortable inside. This is primarily because the batteries are under the floor, and Tesla engineers have compressed the instrument panel in order free up more space inside the cabin.
The surprising bit is the model can be booked by Indian customers as well. The Model 3 will be sold India, Brazil, South Africa, South Korea, New Zealand, Singapore and Ireland, Musk tweeted.
Tesla Motors plans to produce about 5 lakh vehicles a year once production gets to full speed. The Model 3 is a significant addition to the Tesla range, that consists of the Roadster, Model S sedan and Model X crossover, because the new car has the responsibility to turn around the company. Tesla delivered 50,580 vehicles last year, and yet posted a net loss of $889 million (£620 million) for 2015. This is primarily because of the huge investment in research and development, reports BBC.
[1 lakh = 100,000 | 1 crore = 10 million | 100 crore = 1 billion]