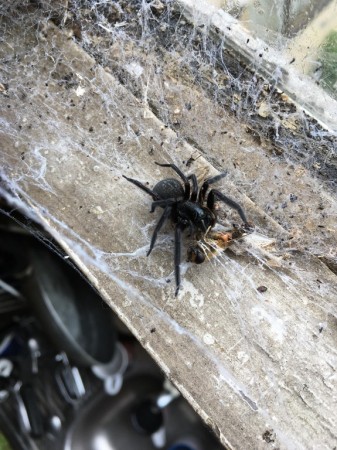 A terrifying photo of a big black spider feasting on a bee has been doing the rounds online, sending the Internet users into frenzy.
The image was shared online by a reddit user, monikered as safferino83, with a caption "Spider feasting on bee. What kind of spider?"
The photo of the fierce looking spider was posted on Tuesday. It shows the huge spider spinning around a cobweb full of insects while defeating the bee.
Also read WATCH: Heartbreaking photo of a little girl drinking from a roadside puddle has shocked people worldwide
Many of the netizens shared their opinion about the spider on the forum and majority of them agreed that it is a black house spider.
"I actually like black house spiders. Even though they're harmless and want nothing to do with you, they look bad-ass. Or cute. Bad-ass or cute. I can't really decide," wrote a reddit user.
"They're not medically significant but they do have a particularly painful bite. Fortunately they more or less stay out of the way," stated another reddit user.
A netizen, monikered as FuzzyBearbarian, also shared a story of his encounter with a big black spider. Here is how he explained the incident:
I once found one (a really big one) in a deep puddle in my old shed after pretty flooding rains. It was stuck and couldn't get out. I reached my hand down and let it struggle its way onto my hand. I then held my hand over a bench top until it decided to walk off and onto the bench. It stayed on top of the bench for another 24 hours after that without moving. What's interesting, is after that it made a web between the wall and the bench, and if it was out on its web and I went really close it wouldn't retreat back into its hole unlike other black house spiders. It would just stare at me. I kind of felt like it remembered me and knew I'd helped it. It certainly was never scared of me being near after that, which I thought was cool.
I've just been outside trying to maintain my will to live (a heatwave joke) and my spider buddies are the absolute best. I love at dusk how they appear to be floating in the air drawing crazy geometrical patterns. I love their magic. I am pretty sure spiders pay attention to us. I wouldn't be surprised if we have most of our neighbours' spiders because we don't brush down their webs or use poison in the yard. Heck, we will work really hard to avoid them. Last summer we had several generations of orbs outside a bedroom window. This year we have multiple strands that reach from the house across the driveway to the fence. Perhaps one day this will result in a mosquito-free garden," shared another netizen.