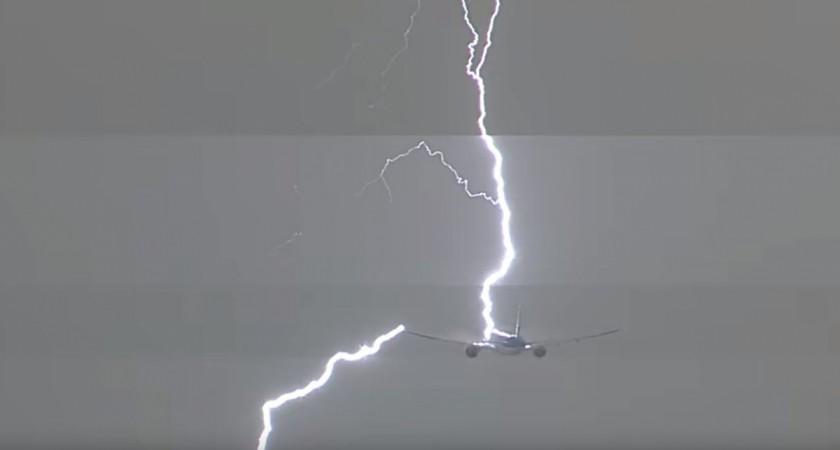 If you have flight anxiety then the video of a flash of bright light hitting a commercial plane will leave you terrified. A video has captured the terrifying moment when a commercial plane was struck by huge lightning bolt minutes after taking off into the skies.
The KLM Boeing 777-300 ER was carrying a countless number of passengers from Amsterdam Airport Schiphol when the flash of light hit the nose the of the daily plane mid-air.
However, the Boeing continued its journey unperturbed and landed on time at the Lima airport around 12 hours and 40 minutes later. No damage was reported by the plane.
The footage of the terrifying moment was uploaded on YouTube on Tuesday, but it is not clear when the incident happened. The viral video has surpassed 576,509 views until now. YouTube users praising the airline commented that they were impressed with the design.
"That was amazing! Fantastic condensation and what a lucky catch," one user commented.
"What an absolute beauty," another said.
"I was more impressed by condensation during take-off," the third user said.
"Clear to see it did strike it, those on the left would have had a moment of shock at the sight."
While this may sound scary, planes around the world are often bombarded with lightning bolts. However, they are not seriously damaged.
Usually, a bolt will hit an edge of a plane and travel through the metal shell before leaving from another point. According to Patrick Smith, a pilot and author of Cockpit Confidential, planes are struck by lightning more frequently than you can imagine.
"Once in a while there's exterior damage – a superficial entry or exit wound – or minor injury to the plane's electrical systems, but a strike typically leaves little or no evidence," Smith explained.