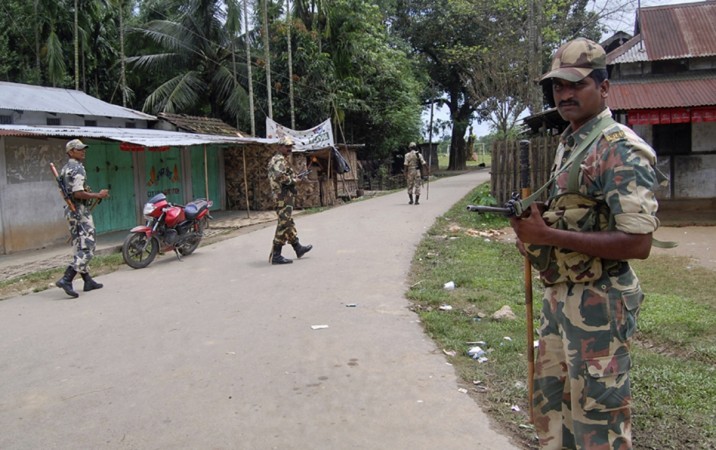 Heavy police deployment continued in Tinsukia, Assam for the third consecutive day as tension still prevailed in the district days after the United Liberation Front of Assam (Independent) militants killed a Hindi-speaking businessman and his daughter. Though no violence was reported on Friday, the situation reamined tense in the area.
Union Home Minister Rajnath Singh spoke to Assam Chief Minister Tarun Gogoi over the phone to take stock of the situation and the security measures being taken by the state government to ensure peace.
"Gogoi told me that the state had already rushed security forces to Tinsukia to maintain law and order. I assured the chief minister of all possible help from the Centre, including additional security forces, if needed," PTI quoted Singh as saying.
The incident occurred on Tuesday night, when Ulfa(I) militants opened indiscriminate fire at the house of Hindi-speaking family in Bijuliban village of the district. The 65-year-old businessman, Nandal Shah died on the spot, while his daughter Kajol Shah, 21, succumbed to injuries later in hospital, NDTV reported. His wife, son and nephew suatined injuries.
Following the attack on the Shahs, the Assam government transferred superintendent of police of Tinsukia Arnab Deka and posted Anglong SP Mugdha Jyoti Mahanta in his place.
Several protests followed the death of Shah and his daughter. Bhojpuri Yuva Chhatra Parishad, a local organisation that represents the businessman's community in the district, had called a 12-hour strike on Wednesday.
During the strike, a violent clash took place between the protestors and the police, in which one person was killed and two others injured. There were allegations that the deceased was hit by police during the lathicharge.
"We are investigating the cause of the death," Assam director general of police Khagen Sarma said.