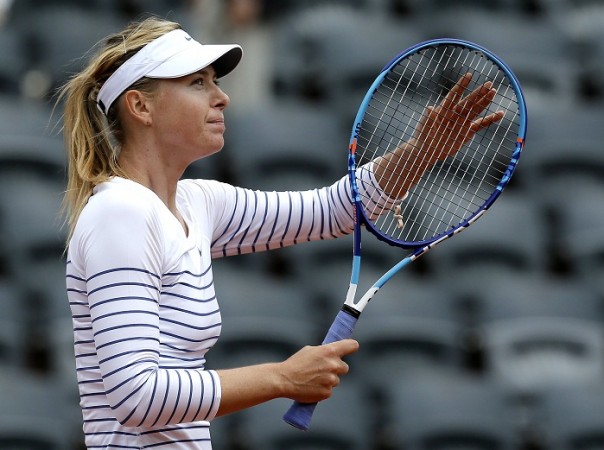 While companies like Nike, Tag Heuer and German automobile manufacturer Porsche have announced discontinuing their relationship with tennis superstar Maria Sharapova, the Russian racquet manufacturer Head announced Thursday that they are looking to extending their contract with her.
Sharapova revealed last Monday of taking a banned substance, meldonium, for many years without being aware that it is on the list of WADA's (World Anti-Doping Agency's) list of banned substances. The ban may have come into effect on Jan. 1, 2016, but the damage has already been done.
The ITF (International Tennis Federation) announced that the Russian glam-girl is going to be provisionally suspended from the sport from March 12. Apart from that, American sportswear brand Nike, with whom she signed an eight-year, $70 million deal in 2010, decided to terminate the contract with her.
Swiss watch-maker Tag Heuer also followed suit. Forbes estimated her earnings at $29.5 million for 2015 but going by the recent developments, her earnings are expected to significantly fall below that mark for 2016.
Sharapova announced on social media that she hoped of getting back into the game despite the turbulent times. The 28-year-old said "I'd like to play again." Taking note of this statement possibly, her racquet manufacturer 'Head' announced that no matter what happens, they are willing to continuing its association with the tennis star.
"Head is proud to stand behind Maria, now and into the future, and we intend to extend her contract," the tennis manufacturer released a statement. "We look forward to working with her and to announcing new sponsorships in the weeks and months ahead. Maria may have made a mistake but she has earned the benefit of the doubt and we are extending it to her."
Head's chairman and chief executive John Eliasch also added that Sharapova had committed an error and it was a genuine mistake on her part. "Although it is beyond doubt she tested positive for the use of a Wada [World Anti-Doping Agency] banned substance, the circumstantial evidence is equally beyond doubt the continued use of meldonium after Jan 1st, 2016 in the dosages she had been recommended, which were significantly short of performance-enhancing levels, was a manifest error by Maria."
"In the absence of any evidence of any intent by Maria of enhancing her performance or trying to gain an unfair advantage through the use of mildronate, we further conclude this falls into the category of 'honest' mistakes."
"We also know that for more than a decade, Maria Sharapova has been a role model and woman of integrity who has inspired millions of fans around the world to play and watch tennis. We look forward to many more years of working with Maria," Eliasch explained.