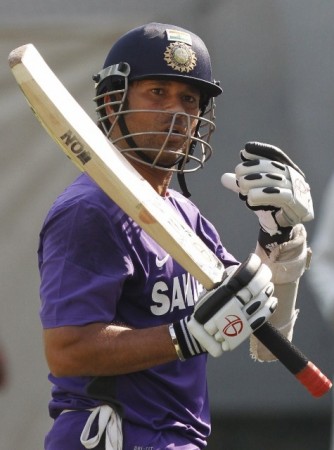 A bat, tie and t-shirt, which belonged to Sachin Tendulkar, were auctioned on Sunday to raise funds for orphans in Pune.
The bid raised ₹15 million, which went to the Society of Friends of the Sassoon Hospitals (SOFOSH) NGO that runs an orphanage for children.
"Every person in this world is given a talent by God. After the talent has been identified, the talent has to be worshipped. To take the talent to bigger level is in our hands," Tendulkar said at the event.
At the event, Tendulkar was presented an audio-book on his life, made by the orphan children. He said he was extremely touched by the gesture.
"Inspite of various challenges, the grit and determination of the kids to make an audio book about me and then to share that joy with me was a big moment for me," the 41-year-old added.
Tendulkar had became the first sportsperson to be honoured with Bharat Ratna, India's highest civilian award, after he retired from the game last year.
The cricketer enjoyed a glittering career and is widely acknowledged as the greatest batsmen of all time. He is also known as the God of Cricket.
Tendulkar has set various batting records in his 24-year long career. He is the only player to have scored 100 international centuries and a double century in an ODI match. He is also the only player to complete more than 30,000 runs in international cricket.
Several Indian youth regard him as the perfect role model for his personality on and off the field.
Tendulkar was nominated to the Rajya Sabha in 2012. He was also handed the Arjuna award in 1994, Rajiv Gandhi Khel Ratna award in 1997, which is India's highest sporting honour, and Padma Shri and Padma Vibhushan in 1999 and 2008 respectively.