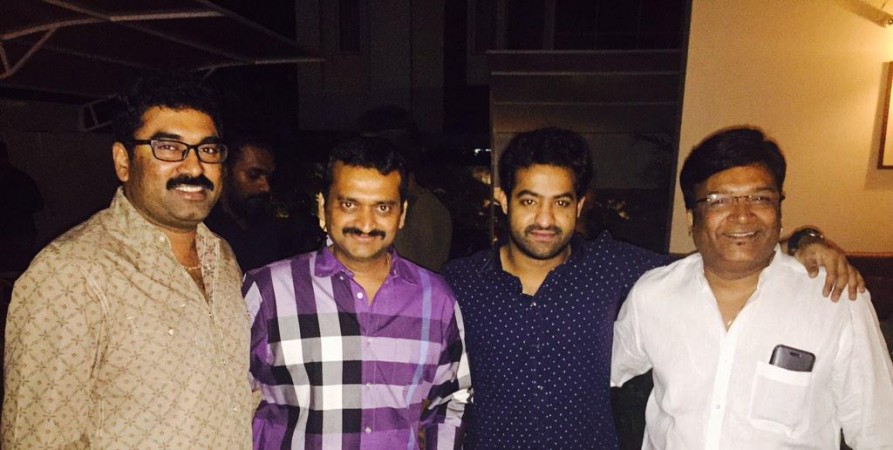 Puri Jagannath's"Temper" starring Junior NTR and Kajal Aggarwal in the leads has collected approximately ₹6.50 crore at the worldwide box office on Saturday, taking its two-day total to ₹22 crore.
Released in over 850 screens on 13 February, "Temper" opened to an earth-shattering response and raked in ₹9.68 crore at the Andhra Pradesh and Telangana (AP/T) box office on the first day. The movie collected another ₹5+ crore from its screening in other parts of the world, taking its first day global total ₹15 crore.
The Junior NTR and Kajal Aggarwal starrer witnessed around 50 per cent drop in its business in the morning shows on Saturday and the film showed improvements in the later shows. As per early trends, the movie has raked in approximately ₹4 crore at the AP/T box office and ₹2.5 crore in other parts of the world on Saturday. Its second-day total stands at ₹6.50 crore.
Bandla Ganesh Babu, who has produced "Temper" with a whopping budget, is all excited over the huge response for the film. The celebration of its success has already begun at his office. He cut a huge cake on Saturday night and Junior NTR, Puri Jagannath, Ram Gopal Varma, Gopi Mohan and Kona Venkat were present on the occasion.
After the success party of "Temper", Ganesh Babu posted a photo on his Twitter page and wrote, "Enjoying #Temper success with our BAADSHAH team @konavenkat99 @Gopimohan." Meanwhile, he also announced that sequel to "Temper" is in Pipeline. He tweeted, "WITH YOUR LOVE , WITH YOUR SUPPORT..... TEMPER 2 IS GETTING READY "
Ram Gopal Varma tweeted, "Thrilled tht Bandla Ganesh cutting biggest cake in world nd giving party at highest point to celebrate "Temper" whch wil shock evn bollywood."
Kona Venkat wrote on his Twitter page, "I'm super happy for our BAADSHAH producer @ganeshbandla who gave two biggest hits for Tarak.. Hoping for the 3rd!!"
Gopi Mohan also tweeted, "Happy to be with our BAADSHAH NTR & with super successful TEMPER team.Celebrating Nata Viswaroopam NTR success:)"
Here are the photos of Temper success party held in Hyderabad on Saturday night:
WITH YOUR LOVE , WITH YOUR SUPPORT..... TEMPER 2 IS GETTING READY pic.twitter.com/gpeaPPSTai

— ganesh bandla (@ganeshbandla) February 14, 2015
Enjoying #Temper success with our BAADSHAH team @konavenkat99 @Gopimohan pic.twitter.com/9YsRmWLNJL — ganesh bandla (@ganeshbandla) February 14, 2015
Temper movie success celebrations @tarak9999 @purijagan @ganeshbandla @RGVzoomin @anuprubens @bhaskarabhatla Vamsi pic.twitter.com/PgyTpK8USc

— ticket65 (@ticket65dotcom) February 14, 2015
#Ganesh is on Full swing. Dancing for #Temper title track @ganeshbandla pic.twitter.com/zsO945W9Ym — Tollywood Updates (@TeluguMoviz) February 14, 2015
Temper movie success celebrations @tarak9999 @purijagan @ganeshbandla @Gopimohan @konavenkat99 @RGVzoomin Vamsi pic.twitter.com/Guhdw9FvR2

— ticket65 (@ticket65dotcom) February 14, 2015
₹