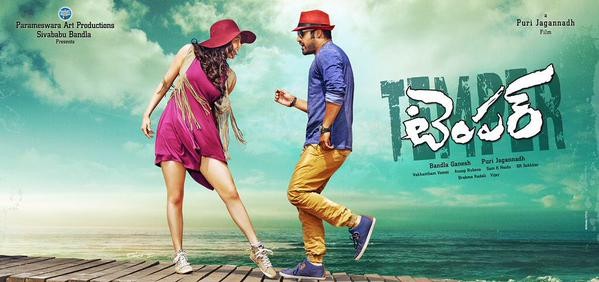 The music of the much-awaited movie "Temper" starring Jr. NTR and Kajal Agarwal in the lead has been released. The songs which are composed by Anup Rubens have opened to positive reviews but most of the critics feel that the songs do not live up to the expectations from a Jr. NTR movie.
They say that the melodious numbers are more impressive than the fast numbers. The popularity of the songs will depend completely on visualisation, they add.
The album has six numbers, including the theme song.
"Temper" is written and directed by Puri Jagganadh and is produced by Parameshwara Art Pictures.
Here are the reviews of "Temper" songs by critics:
"Choolenge Aasma"
Lyrics: Viswa
Singers: Adnan Sami, Ramya Behara, Veena Ghantasala
"The funky album begins on a groovy note with Jamaican rhythm interspersed with breezy vocals by Adnan Sami. The Spanish flavour also makes its presence felt in the smooth interludes. A very special mention should be made for the flamenco styled guitar which arrives in timely fashion throughout." - Behindwoods
"The first song is Choolenge Aasma which is probably the best song in the album. Sung by the super talented Adnan Sami, this song is quite groovy and the Hindi lyrics are a nice addition. Anup Rubens makes sure that the song has a Goan feel and makes it quite urban and stylish. A true chartbuster when you listen to it for the first time itself."- 123Telugu
"This romantic song is wonderful with guitar and string sections. Adnan Sami sang this song with his own style. It is one of the chartbusters of the album. Ramya and Veena Ghantasala's voice add energy to the song."- Iluvcinema
"This is probably introduction song of hero in the film, song starts with the lines 'Ne Thatha Temper, Ne Ayya Temper, ne babai Temper', this will be a fest to N fans since this songs refer to Sr. Ntr, Balakrishna and Harikrishna, this is a good dancing number with heavy beats but the song is very average on hearing, lyrics are badly penned and are irked in between music without any meaning for rhyming, this definitely won't be a blockbuster song, audience expect more from Anup for a title track."- DailyIndia
"Temper" (title song)
Lyrics: Bhaskarabhatla, Rahul (Rap)
Singers: Bhargavi Pillai, MLR Karthikeyan, Simha, Uma Neha
"Contrasting to the laid back beginnings, the album gathers sudden pace with local percussions blended with thumping vocals. The track has a gripping factor with electronic guitar joining the feast as well. Lyrics by Bhaskarabhatla make sure the Nandamuri family presence is felt in stylish manner."- Behindwoods
"The second song in the album is the title song Temper, which is quite an interesting track. It has a mass hook up line which gets on to you instantly. Lyrics of this song are also quite quirky and the funky singing only raises the tempo of this song a bit higher. The mass audience especially Nandamuri fans will definitely end up liking this song."- 123Telugu
"This is the title song of the album. Temper title song sets the tone for power packed audio tracks. The song is well composed in a typical introduction style promoting hero's character." – Iluvcinema
"Typical Anup Rubens mark melody, tune is very routine from Anup but Adnan's voice makes this song feel fresh, song starts with interesting music and lyrics, tune is very catchy and beat is foot tapping, this will be a fresh kind of song for Ntr, Puri Jaganath is best in picturising these kind of foot tapping melodies, Ramya Behra and Adnan took the song to next level with their vocals, lyrics penned by Viswa are neat and simple, though its resembles Anup's many previous works but still stands as one of the best song of the album."- DailyIndia
"Devudaa"
Lyrics: Bhaskarabhatla
Singers: Anoop Rubens, Puri Jagannadh
"Interestingly, it is time for an introspective track with passionate vocals by Anoop Rubens himself. Lyrics by Bhaskarabhatla are deep and thoughtful. The track carries a strange Middle Eastern flavor with effortless ease. Despite the trendy presentation, the track has a good melodious value which is quite evident."- Behindwoods
"Moving on, third song in the album is Devudaa. Sung by Anup Rubens himself, this is a typical number which comes across in all Puri Jagan movies with his kind of lyrics which are quite satirical. This number has a funky tune and its orchestration only makes it more peppy."- 123Telugu
"This song is sung by Anup Rubens and Puri Jagannadh. Lyrics of this song have 'Oka thappu jarigithe emaivthundo devudaa...' And 'Devudaaa... Ohh devudaa'. Fans can expect good locales and best dance moves from this song."- Iluvcinema
"Song starts with Anup's voice and doesn't' seem interesting from the first line itself, lyrics are not so great, music is good though but the beat is pretty normal, now it all depends on Puri and Ntr, is picturisation goes wrong it can be a cig break song, easily skippable song in the album."- DailyIndia
"One More Time"
Lyrics: Kandikonda
Singers: Lipsika, Ranjith
"The album gets the mass appeal with laid back rhythm and sweet renditions by Ranjith and Lipsika respectively. Foot tapping rhythm, usage of a peculiar string section and electronic keyboard are the best aspects of this composition. With fusion styled interludes, the track progresses smoothly with impressive electric guitar riffs and thavil rhythm section."- Behindwoods
"Fourth song in the album is the lovable number One more time. Probably the only romantic song in the album, this number is a completely soothing and has a quirky hook up line 'on the spot which is quite good. Lyrics are romantic and have a calming effect on the listener. "- 123Telugu
"This song starts with good tune. Ranjith voice is apt for this song and melody lovers will definitely love this song. You will definitely go to repeat button after listening this song."- I luvcinema
"Best song in the album and my pick, right from beginning music and the beat, the song is so fresh and a better tune from Anup Rubens in recent times, both singers Ranjith and Lipsika did a great job, with a bit of classical touch in the tune and different rhythm, this song will be chartbuster hit and will top the charts, lyrics are neat though not great, eagerly waiting to see song on the screen."-DailyIndia
"Ittage Recchipodam"
Lyrics: Bhaskarabhatla
Singers: Anudeep, Arun, Dhanunjay, Geetha Madhuri
"An obvious item number with amusing lyrics and digitalized vocals of Geetha Madhuri arrives next. However, the track lacks the instant likeability factor which is mandatory for an item song to click. The electric guitars sound out of place but manage to keep the energies going."-Behindwoods
"The last song in the album is the item number Ittage Rechhipodam. Probably the massiest song in the album, this number is completely aimed at the frontbenchers. The beats in the number are kept quite local and have a unique flavour attached to them. What ticks in this number is the superb singing by Geeta Madhuri which is quite funky."-123Telugu
"This item song and is one of the best compositions from Anup. Husky voice of Geetha Madhuri will disturb the people even in sleep. Usage of bagpipe, synthesizers by Anup is terrific. It is definitely chartbuster of the album and you will connect to it constantly."-Iluvcinema
"This is probably the item song in the movie because the starting lyrics of songs say so, this is the weakest song in the album, neither the tune nor the beat is interesting, lyrics are also pretty bad and the tune is not at catchy, even Geetha Maduri's husky voice couldn't make this song interesting, should wait for picturisation of the song." – Daily India
"Temper" (Theme)
Lyrics: Rahul (Rap)
Singers: Anudeep, Arun, Dhanunjay, Hymath
"The album enters a finale with a power packed theme track blended with Bhagawad Gita's quotes and modern Rap. The sequencing and electronic mixing gives it a trendy look and it is neatly presented."- Behindwoods
"Temper theme song is 1:44 minutes of runtime. Song lyrics is ' Pavithrayana sadunam... vinayasa chathuradasa ...Dharma Shamshaya nardayaa...'. With BGM And 'Raksha' as Chorus, song is completed as one Sloka. This song might happens while hero hunting villain gang." -Iluvcinema
"Theme song of Temper might be used in some important fight sequence, this theme song sloka resembles the one in the Pilla Nuvu Leni Jeevitham, nothing much to talk about it."- DailyIndia