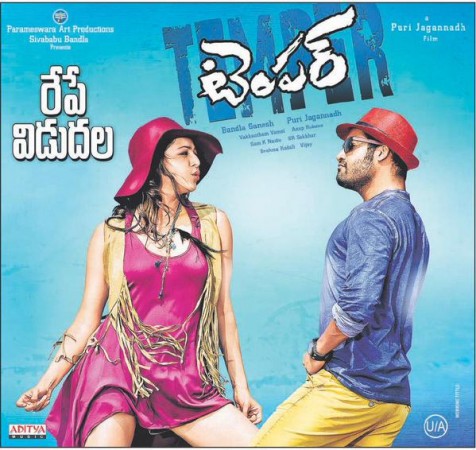 Jr. NTR's "Temper" which is now running successfully in theatres across the world, has received some overwhelming response from audience as well as critics. The makers of the movie and Jr. NTR are now being flooded with congratulatory messages from the industry too.
The movie as well as the lead actor has impressed many including actors like Simbu, Sudeep Kishan, Samantha Ruth Prabhu, Rana Duggabati and film maker Kovelamudi Raghavendra Rao. They appreciated Tarak for being part of an author backed role.
In the movie Jr. NTR plays the role of a ruthless and corrupt cop but changes when he meets the character played by Kajal Aggarwal. How a change is seen in his attitude towards others and within himself forms the crux of "Temper".
Here are the reviews of "Temper" by celebrities
Simbu
"Happy for my dear brother #NTR hearing great response for #Temper ... Congrats :)"
Sudeep Kishan
"Loved Temper..the climax gave me goosebumps..only @purijagan sir can write something like that...NTR anna gave a stellar performance,super:)And Posani Garu got such an author backed role..and he played it so well..the film has some fabulous take home moments #Temper"
Rana Duggabatti
"Loved #Temper loved Tarak and @purijagan's dialogues"
Rakul Preeth
"Mass ante #Temper ... What a film.. Rocking performances.. Loveeeed d film... U cannot afford to miss this one"
Raghavendra Rao K
"Watched #Temper. Tarak Natana Adbutham! Proved again that he is one of the finest actors of Telugu Cinema. Top notch performance by him.Specially 2nd half is gripping & emotional with Power packed screenplay. Strong Comeback for both Jagan and Tarak."
BVS Ravi
Watched #Temper its @tarak9999 all over. @purijagan at the screen ablaze once again after #Pokiri
Samantha Ruth Prabhu
"#temper is superbbbbbb. The best of NTR. Woo hoo"
Neeraja Kona
"Temper .,.. Truly @tarak9999 's one man show! Brilliant acting ... Loved the climax and ....taraks dance as usual"
Hari Prriya
"Extremely wel made movie fr both class & mass #Temper,new dimension of NTR is shwn. enjyd watching it 2 d core. Happy 2 b a fan of his family"