The Telangana Police are reportedly on the lookout for BJP leader Bharat Reddy after a video showing him forcing two Dalit youths from the Nizamabad district into a filthy pond surfaced online.
The video shows the two Dalit men — since identified as Kondra Laxman and Rajesh — being forced by an angry Reddy into the pond because they apparently questioned the quarrying of gravel by him near it.
Reddy tried to thrash the Dalits after they reportedly tried to stop him from extracting gravel from fields near the Errakunta pond.
The video shows them pleading for mercy, but Reddy repeatedly asks them to dip their head in the water of the pond. He continues to hurl abuse and stones at them even after they comply.
The incident happened in September this year, but has come to light only now as the video has gone viral on social media, drawing netizens' ire.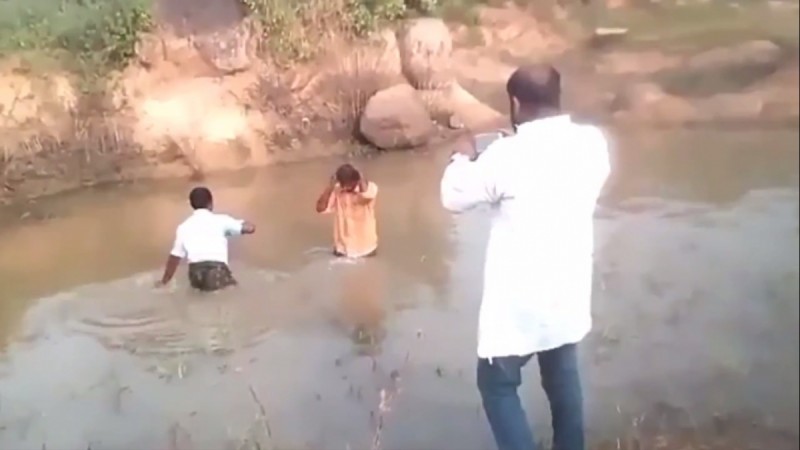 The Dalits had apparently not filed any complaint against Reddy fearing his threats.
The police have lodged an FIR in the case and are on a lookout for Reddy, following a complaint by Manikolla Gangadhar, the local Dalit leader who represents the Madiga Reservation Porata Samithi (MRPS) — an organisation that claims to fight for the rights of Scheduled Cates and Scheduled Tribes under the SC/ST Atrocities (Prevention) Act of 1989.
N Buchaiah, the circle inspector, was quoted by Hindustan Timea as saying: "Reddy is absconding. We will arrest him once we track him down. Based on a complaint by Dalit leaders we have registered a case and investigating the matter."
Caste-based discrimination and violence has been prohibited in India since 1955 under the Protection of Civil Rights Act. But instances of Dalits being treated as downtrodden in many Indian states continue to surface.
Watch the viral video here: