In the wake of the coronavirus pandemic, it was reported that the lockdown in Telangana had been extended till June 3. But news agency ANI, shortly after tweeting the lockdown extension news, issued a clarification saying Telangana CM Chandrashekhar Rao had merely suggested the lockdown be extended for two more weeks.
Speaking to the media near Pragathi Bhavan, Rao said, "We can recover from the hit that the economy is taking but we can't bring back lives of the people. Lockdown is the only weapon that India has given the weak health infrastructure that we have. I propose that the lockdown be extended by at least one or two weeks and a call on opening up can be taken after that."
The Telangana chief minister went on to add that the lockdown is impacting all sections of society and the economy at large, but the issue of Covid-19 is the biggest crisis faced by us and it calls for strict measures.
Telangana reports 52 new cases, tally rises to 321
According to reports, 52 new coronavirus cases were reported as of 6:00 pm on April 6 in Telangana, according to data released by the Ministry of Health and Family Welfare. This brings the total reported cases of coronavirus in Telangana to 321. Among the total people infected as on date, 34 have recovered and 7 have passed away.
ANI later issued a clarification to its earlier tweet.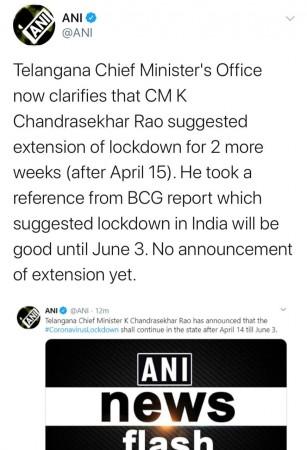 Related