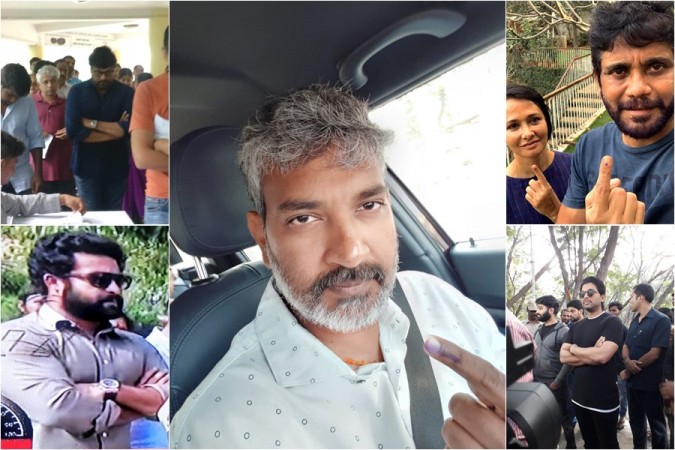 Mahesh Babu, Jr NTR, Allu Arjun, Rajamouli, Nagarjuna, Chiranjeevi and many other Tollywood celebs took some time off from their busy schedules to cast their votes in Telangana assembly elections, 2018.
Voting is underway for 119 seats in Telangana assembly elections and over 2.8 crore people are expected to cast their vote in in the state on Friday. Most of the Tollywood celebs are based in Hyderabad, where they have voting power. Keeping aside their filmy activities, many of them headed to polling booths in the morning to exercise their power, which comes once in five years.
Soon after voting, they took to their Twitter accounts to share their photos posing with inked fingers. They also requested their to take charge of their future for the next five years and take responsibility of your rights and duties. Here are their photos, videos and comments.
SS Rajamouli: I did my part! Did you? #TelanganaElections2018
Nagarjuna Akkineni: Telengana!! Time to vote my friends!! Go for it
Nithiin: I got inked!! Did u yet?? Common get out and go vote!!
Varun Tej Konidela: Do your part! Be a responsible citizen! Go cast your VOTE! #YourVoteMatters
AlluManvi: #StylishStar #AlluArjun annaya stands in a queue to cast annayas vote at booth no. 152 in Jubilee Hills, Hyderabad. #TelanganaElections2018 @imsarathchandra @mahipaloskula @SKNonline
AhiTeja Bellamkonda: Megastar Chiranjeevi garu in queue with family to cast his vote #VoteForBetterFuture #TelanganaElections2018 #AssemblyElections2018
Suma Kanakala: My right my vote
Mahesh S Koneru: I voted ! Did you ? Make it count! #TelangaElections2018 #GoandVote Misplaced your voter ID card or don't have a physical copy? Just go to https://www.nvsp.in/ , verify your name in your constituency list and print the slip. All you need is the slip and an ID proof. Go and vote #TelanganaElections2018 #GoandVote
Koratala Siva: Take charge of your future for the next five years. Ensure you take responsibility of your rights and duties. DO VOTE. #Telanganaelections2018
Sai bellamkonda: Our right and I have done my part for better nation. Go vote! #TelanganaElections2018
Vamsi-Shekar: Superstar @urstrulymahesh and #Namrata have utilised their right to vote. #TelanganaElections
Gopi Mohan: కులం,మతం,ప్రాంతం అభిమానాలను పక్కనపెట్టి ,మీ అమూల్యమైన ఓటు హక్కును విజ్ఞతతో వినియోగించుకోండి. ప్రజలకు మేలు చేసే మంచి నాయకుడిని ఎన్నుకోండి.మీరు వేసే ఓటు లోనే మన దేశ భవిష్యత్తు ఉంది.జైహింద్ #TelanganaElection2018
Gayatri Bhargavi: Early Bird me, executed my Right to #vote. Have you?
Come and vote says director @ssrajamouli#TelanganaElections2018 #TelanganaElections pic.twitter.com/XC1isgXbNu

— Vamsi-Shekar (@UrsVamsiShekar) December 7, 2018
It's our constitutional right says Superstar #Krishna garu #TelanganaElections2018 #TelanganaElections pic.twitter.com/ZgryZnmbWI

— Vamsi-Shekar (@UrsVamsiShekar) December 7, 2018
Everyone should have vote wisdom for better future says Megastar #Chiranjeevi#TelanganaElections2018 #TelanganaElections pic.twitter.com/QWFrzKeXJf

— Vamsi-Shekar (@UrsVamsiShekar) December 7, 2018
Victory Venkatesh casts his vote #TelanganaElections2018 #TelanganaElections pic.twitter.com/i1xInoPkP4

— Vamsi-Shekar (@UrsVamsiShekar) December 7, 2018
Superstar @urstrulymahesh and #Namrata have utilised their right to vote. #TelanganaElections pic.twitter.com/3bP6hqiXUA

— Vamsi-Shekar (@UrsVamsiShekar) December 7, 2018
I am requesting everyone to cast their vote. I have cast my vote. Please do cast your vote. It's really a great feeling to cast vote by taking our social responsibility. " - @alluarjun #TelanganaElections2018 pic.twitter.com/1E0AxaoeyN

— SKN- Taxiwaala Blockbuster Ride (@SKNonline) December 7, 2018
Telengana!! Time to vote my friends!! Go for it? pic.twitter.com/JTFLDcZIgA

— Nagarjuna Akkineni (@iamnagarjuna) December 7, 2018
I did my part! Did you? #TelanganaElections2018 pic.twitter.com/FZQRaKVYBl

— rajamouli ss (@ssrajamouli) December 7, 2018
I got inked!! Did u yet?? Common get out and go vote!! pic.twitter.com/1tHW1RIySb

— nithiin (@actor_nithiin) December 7, 2018
#TelanganaAssemblyElections2018 #JrNTR queues up to vote along with wife and mother in Obul Reddy school... https://t.co/peSINIDzXH

— TV9 Telugu (@TV9Telugu) December 7, 2018
#StylishStar#AlluArjun annaya stands in a queue to cast annayas vote at booth no. 152 in Jubilee Hills, Hyderabad. #TelanganaElections2018 @imsarathchandra @mahipaloskula @SKNonline pic.twitter.com/RXKRVWyGQl

— AlluManvi (@AlluManvi) December 7, 2018
Megastar Chiranjeevi garu in queue with family to cast his vote??#VoteForBetterFuture #TelanganaElections2018 #AssemblyElections2018 pic.twitter.com/hGeRxcOYDI

— AhiTeja Bellamkonda (@ahiteja666) December 7, 2018
I voted ! Did you ? Make it count! #TelangaElections2018 #GoandVote pic.twitter.com/5fvqY5LiM1

— Mahesh S Koneru (@smkoneru) December 7, 2018
My right my vote pic.twitter.com/8awfByuUTI

— Suma Kanakala (@ItsSumaKanakala) December 7, 2018
Early Bird me, executed my Right to #vote. Have you? pic.twitter.com/2TePVIIqG8

— Gayatri Bhargavi (@GayatriBhargav1) December 7, 2018
Mega brother Naga Babu garu, @IAmVarunTej, @IamNiharikaK cast their vote#TelanganaElections2018 #TelanganaElections pic.twitter.com/S2ctTLKaMy

— Vamsi-Shekar (@UrsVamsiShekar) December 7, 2018
Our right and I have done my part for better nation. Go vote! #TelanganaElections2018 pic.twitter.com/G9gVsWYC6u

— Sai bellamkonda (@BSaiSreenivas) December 7, 2018