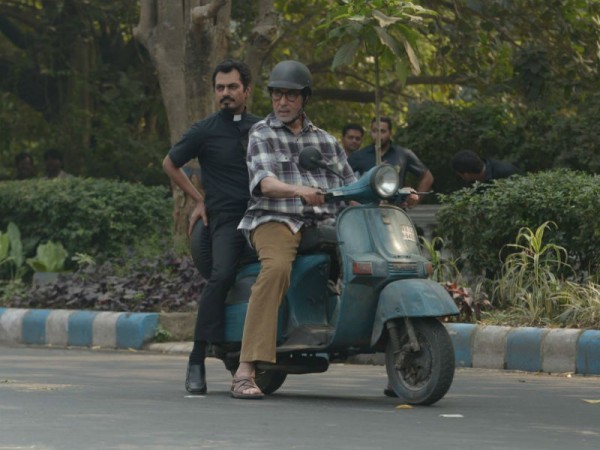 Director Ribhu Dasgupta's Bollywood movie "Te3n," starring Amitabh Bachchan, Nawazuddin Siddiqui and Vidya Balan, has received positive reviews from the audience around the world.
Check: Te3n Review | Te3n Promotion | Trailer Release | Audio Launch Phtos
"Te3n" is an Indian thriller film, which is an official remake of South Korean movie "Montage." Suresh Nair, Ritesh Shah and Bijesh Jayarajan have written the screenplay for the movie, while Ribhu Dasgupta penned the story. Filmmaker Sujoy Ghosh, who has acquired its remake rights, has jointly produced the movie with Gulab Singh Tanwar, Hyunwoo Thomas Kim, Suresh Nair, Sameer Rajendran and Gauri Sathe.
The story of "Te3n" is about a woman, who loses her daughter in a kidnapping case that was never solved. Eight years later, a kidnapper copies the unsolved case exactly. A cop (Vidya Balan), a priest (Nawazuddin Siddiqui) and a vengeful man (Amitabh Bachchan) set out to investigate this kidnapping case. How they unravel the mystery forms the crux of the story.
The audience say "Te3n" has an interesting and realistic story and writers have done wonderful script work for the film. The director has got good grip of the narration. Though it is slow and dragging in parts, the director manages to keep the audience engaged right from the beginning to end. He makes the film-goers watch sitting on the edge of their seats, biting their nails.
The viewers add Amitabh Bachchan and Nawazuddin Siddiqui have delivered brilliant performances, which are the highlights of "Te3n." Vidya Balan has limited screen presence, but manages to impress the viewers. Clinton Cerejo's music and Tushar Kanti Ray's camera work are the big attractions on the technical front.
We bring you some viewers' verdict shared on Twittter. Here is the live update of the 'Te3n' movie review by audience:
Faridoon Shahryar ‏@iFaridoon
Ribhu's #TE3N is an engrossing film that keeps you engaged n surprised the way only a Bengali setting n mind will..Big B Towers above all! Screenplay is a sheer delight with unusual visuals, the reality of everyday life n yet a mystery that keeps u hooked right till the end.#TE3N The subdued body language, the simplicity n yet a quest for truth against all odds, Mr Bachchan delivers an aweinspiring performance in #TE3N Nawazuddin is a master actor n he surprises with a sedate performance while Vidya is dependable as expected #TE3N Clinton's music is a highlight of #TE3N #KyunRe #Grahan are superb but thebpick of the lot is #HaqHai background score is brilliant too Pace of d film is slow but brilliant writing, grt performances, superb music n controlled direction ensures #TE3N is a memorable experience!!
Raghuvendra Singh ‏@raghuvendras
#TE3N is an amazing thriller. @SrBachchan always raises the bar of acting. He is WOW! & @Nawazuddin_S ka kya kehna hai! Kamaal hain janab! Vidya Balan is there so much in #TE3N & she is superb. Wondering why the makers have given guest appearence credit @vidya_balan @sujoy_g
Taran Adarsh ‏@taran_adarsh
Still thinking of @SrBachchan's magnificent performance in #TE3N. So pure, absolutely flawless and distinct... I doff my hat to you, Sir!
RJ ALOK ‏@OYERJALOK
Just watched #TE3N and loved it. It's 136 minutes Thriller with superb Talents @SrBachchan @Nawazuddin_S n @vidya_balan Bob Biswas aka @SrBachchan has done brilliant Job as Grandfather , FAB Like always #TE3N Either Father or Cop ... @Nawazuddin_S again gonna win your heart with his presence in #TE3N Awesome ! Beautiful but hard working Cop @vidya_balan has Special appearance but important Thread of #TE3N
Gud.Bad.ugly ‏@Movieception
Very interesting n Emotional start.... Looks like movie has its heart at the right place. #TE3N. Internission - Startsoff Interestingly, slight dip at some point in first half, Superb Intermission point, Awesome thrill factor #TE3N. #TE3N - First Half - 3.5/5 Top notch performances by the leads.... Loved the first half. Slick n V gud Second half.... Amitabh Bacchan Rocxxxx #TE3N - Watch it u wont Disappoint, but have some patience in first half. 3.5/5 This movie reminded me kinda Wazir which released this year but #TE3N is very well made movie than Wazir.
Kunal M Shah ‏@iamkunalmshah
Watching @SrBachchan perform in #TE3N is pure magic... Take a bow sir... You always manage to surprise all... EVERYTIME... Watch #TE3N for the brilliance of @Nawazuddin_S & the ever dependable @vidya_balan A film sure to keep you on the edge with right emotions
ANGAD BEDI! ‏@Imangadbedi
Watched #TE3N @SrBachchan sir your struggle as the helpless grandfather was just magical. Very real and gripping. @writish job well done #TE3N well written and very well executed @writish @sujoy_g @SrBachchan loved the redemption. Cudos to the casting team of #TE3N @CastingChhabra @MukeshChhabraCC #indu loved your scenes with @SrBachchan full attitude with chasma
Roshan Goswami ‏@iRoshanGoswami
#Te3n Review: Good story line, engaging direction, fabulous act done by all, nice screenplay, cinematography and background score is superb. #TE3N Review: overall it's an engaging thriller with a lot of twist and turns. So I'll gave 4.0/5.0 stars to this film. A big THUMBSUP
Umair Sandhu ‏@sandhumerry
Exclusive Review of #TE3N from UK. One of the Best Film of the Year. @SrBachchan @vidya_balan @Nawazuddin_S @sujoy_g. MINDBLOWING! A Seat Edge Thriller.Terrific Performances by @SrBachchan @Nawazuddin_S @vidya_balan. Hatsoff #Ribhu @sujoy_g ☆☆☆☆
Juhi Chaturvedi ‏@writeonj
Playing a devastated guilt ridden grandfathr determined for a closure, @SrBachchan your intensity is incredible! what a gripping film! #TE3N
Aniruddhatony ‏@aniruddhatony
Mind blowing performance by @SrBachchan ..A great thriller ..beautifully crafted..
BE3JAL BHATT ‏@BeejalBhatt
An outstanding performance by Sir @SrBachchan in film #TE3N Amazing,MindBlowing & Award Winning... #2DaysToTE3N I think everyone biting Nail while watching #TE3N & outstanding performance by @SrBachchan SIR #2DaysToTE3N @RelianceEnt @sujoy_g Review of #TE3N An Incredible & Outstanding Performance by Sir @SrBachchan in a role of GrandFather Mr.John Biswas @RelianceEnt @sujoy_g
Soumik Sen ‏@bangdu
A slowburn of a thriller that doesn't let you lose focus. #TE3N is yet another three prong acting masterclass. Must watch this weekend.
Fanzwood ‏@Fanzwood
Super start to a super suspenseful movie! Edge of the seat thriller! #AmitabhBachchan you continue to floor us! #TE3N Not much of #VidyaBalan in first half but the movie is so far super brilliant! Clearly second half will be hers! #TE3N Story is the King always! And #SujoyGhosh proves it with every outing! #TE3N And #VidyaBalan is the hero the movie already! She is one super actor! #TE3N
Sumit kadel ‏@Sumitrajkadel
Watched #Te3n last night , very weak story and screenplay . Damm confusing Silly plot. Performance of Amit sir is again top notch 2.5/5
Anna MM Vetticad ‏@annavetticad
My review of Ribhu Dasgupta's #TE3N: so thoroughly engaging in its observations on age, escapism, love and revenge
Dr.Poornima-Reviews ‏@PoornimaReviews
#TE3N Interesting Family Thriller inspired from Korean Film #Montage Awesome performances @SrBachchan @Nawazuddin_S
Durga Maii!! ‏@Pinku1109
#TE3N #Te3nOutToday is a very slow film. Fat and old Vidya Balan looks uncomfortable. In some scenes she looked obese and very ugly
MAYUR STUDIOS™ ‏@MayurStudios
Review: #TE3N Except Fantabulous performance by BigB, nothing so great about the movie..direction average & music below par ..2.5*/5*