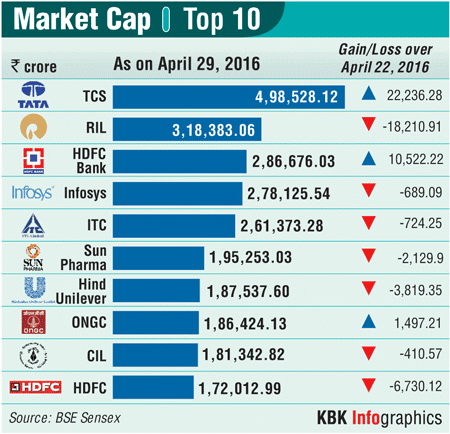 Market valuation of India's top-10 most valued companies collectively stood at Rs. 25,65,656.6 crore for the week ended April 29, according to the Bombay Stock Exchange data.
Leading the pack was the information technology major Tata Consultancy Services (TCS) with a market capitalisation of Rs 4.98 lakh crore. Reliance Industries Ltd (RIL) and HDFC Bank occupied the second and the third spot with market capitalisations of Rs. 3.18 lakh crore and Rs. 2.86 lakh crore, respectively.
TCS, HDFC Bank and ONGC together added Rs. 34,256 crore to the combined valuation, while the rest of the seven companies witnessed erosion in their market capitalisations. The seven companies -- RIL, Infosys, ITC, Sun Pharma, Hindustan Unilever, Coal India and HDFC -- together lost Rs. 32,714.19 crore.
The stock market too saw a snap in its two weeks of rallying, losing 231 points to hover just around the psychologically comforting number of 25,000 points. It stood at 25,606 points at the end of the week.
TCS, which added Rs. 22,236 crore to its market capitalisation during the week, was the biggest gainer of the week. The company recently reported a 64.4 percent rise in net profit and 17.5 percent growth in revenues for the fourth quarter ended March 2016 on a year-on-year basis.