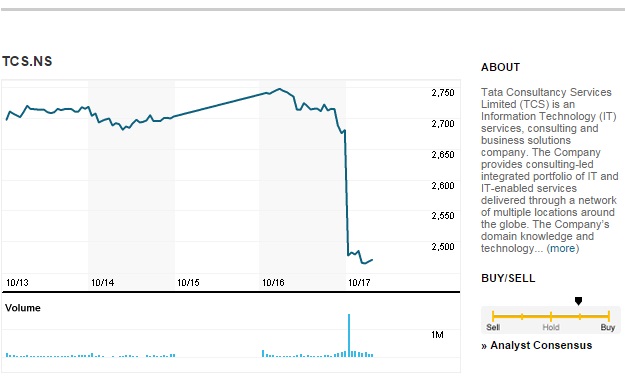 Shares in HCL Technologies fell more than 8 percent on Friday, even though it posted a 32 percent rise in quarterly net profit.
Meanwhile, Tata Consultancy Services (TCS) is set to see its biggest single day fall since May 2009 after its earnings disappointed and estimates fell as much as 8.5 percent, while its sequential U.S. dollar revenue growth also lagged.
Analysts said TCS' 6.4 percent revenue growth from the previous quarter missed estimates for nearly 8 percent growth. Earnings also came slightly below market expectations.
In case of HCL, technology outsourcing company's revenue growth of 12.8 percent in dollar terms was below street expectations, stock market dealers said.
For most IT services companies, analysts and investors track the dollar sales numbers as clients oversees get billed in that currency.
HCL earned 18.73 billion rupees ($303.44 million) in profit in the September quarter, compared to 14.16 billion rupees last year. Analysts, on average, were expecting the profit to be at 17.29 billion rupees, as per Thomson Reuters data.
TCS made a net profit of 52.88 billion rupees ($854.46 million) during its fiscal second quarter ended Sept. 30, up 13.6 percent from a year earlier but below the average analyst forecast of 53.84 billion rupees according to Thomson Reuters.
TCS, part of the salt-to-steel Tata conglomerate, fell short of market expectations in part due to an unexpected growth slowdown in Latin America, which had previously been a growth driver among emerging markets.