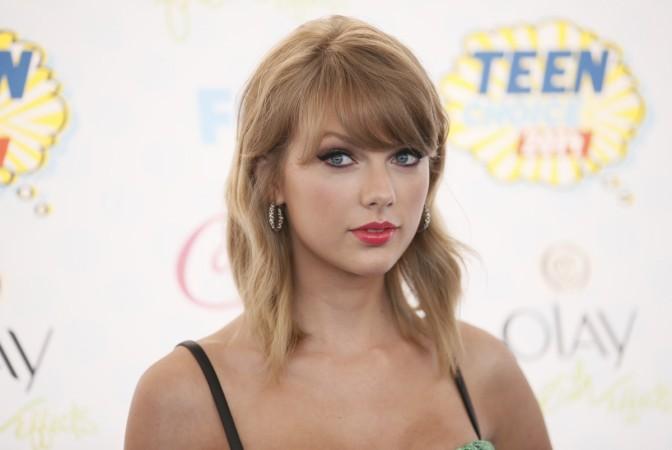 Taylor Swift entertained her fans at the Jimmy Kimmel Live concert on Thursday, putting up an electrifying performance ahead of the launch of her new album, "1989." She also flaunted her sexy body in skimpy outfits to the excitement of her fans who had thronged Hollywood Boulevard to watch her perform.
The 24-year-old country singer looked beautiful in a mini dress and a sexy tight pair of pants couple with a small bracelet which she wore while performing the songs, "Shake It Off" and "Out Of The Woods".
Taylor Swift then sat down with Jimmy Kimmel to talk about her first visit to the show before she became famous.
"Taylor came to our show with her mom and her guitar, and somehow she got a hold of the guy who books the bands here, Scott Igoe, and she asked if she could play a song for him. And he said, 'No, you can't be in the greenroom, we serve alcohol here. You're too young. You have to go.' So he threw her out," Kimmel joked, according to Hollywood Reporter. "He threw Taylor Swift out of our building.'"
"All's well that ends well because I think of it like this: I think you probably would have gotten in more trouble with Jimmy had he wandered out and been like, 'Why is there this random 14-year-old tiny child sitting here with a guitar case? What's happening here?'" replied Swift.
[READ: Taylor Swift's New Album 1989 Leaked Online, Fans Upset]
The singer went on to say that she feels nice as she is more confident about her new album, 1989, than her earlier works. "But it's almost like you're releasing this thing into the world that you spent two years with, and it's just been mine for two years and now it's everybody else's. You know, sending it off to college," she said.
Taylor Swift is all set to launch his new album, "1989" on 27 October. She revealed the tracklist on her Instagram page, and they are: "Welcome To New York," "Blank Space," "Style," "Out Of The Woods," "All You Had To Do Was Stay," "Shake It Off," "I Wish You Would," "Bad Blood," "Wildest Dreams," "How You Get The Girl," "This Love," "I Know Places," and "Clean."
Interestingly, the singer had earlier told Rolling Stone magazine that three of her songs, "Style", "All You Had To Do Was Stay," and "I Wish You Would" were about her ex boyfriend, sparking off rumours that it could be Harry Styles of One Direction.
She has released three songs, "Shake It Off", "Out Of The Woods", and "Welcome To New York" while the other 13 songs are not heard yet.