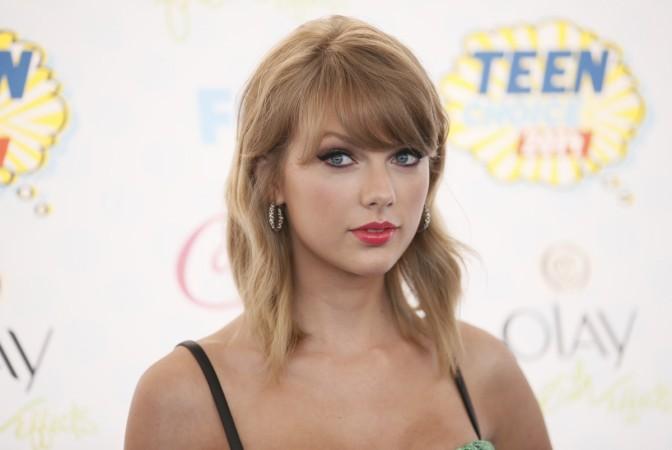 Taylor Swift, who has been very secretive about her new album 1989, had told Alan Carr on Chatty Man show that she didn't even want to talk about leaks and that it would freak her out and have a meltdown on the show but her fears have come true with her album being leaked online on Friday just three before its official release.
The 24-year-old singer's song tracks have been leaked online and it could come from France as the songs are numbered "pistes," which means "track" in French and "all of the French album information appears" when the songs are put into iTunes, according to Vulture.
The report went on to say that the leaked files have 19 tracks instead of the 13 main songs announced by Taylor Swift on her Instagram page. The extra songs are three bonus tracks - "Wonderland," "You R in Love," "New Romance," and three voice memos on the singer's songwriting process and composition of the songs.
Taylor Swift had earlier revealed tracklist of her album and the 13 main songs are: "Welcome To New York," "Blank Space," "Style," "Out Of The Woods," "All You Had To Do Was Stay," "Shake It Off," "I Wish You Would," "Bad Blood," "Wildest Dreams," "How You Get The Girl," "This Love," "I Know Places," and "Clean."
The singer has released three songs - "Shake It Off" and "Out Of The Woods" and "Welcome To New York" - on iTunes and her official website but not other tracks until it was leaked online.
However, the Taylor Swift fans are upset with the leak and many have taken to twitter not only to express their disappointment but also swear not to listen to the tracks until its official release.
"I refuse to listen to '1989' until Monday. As far as I'm concerned, listening to the leak is disrespectful to @taylorswift13 #Swifties," a fan of the singer, while another tweeted. "1989 leaked- retweet this to promise taylor you won't listen to the album before it comes out #1989leak #taylorswift."
"I swear to god if I see one more person threatening to leak 1989 I will hurt them," tweeted another fan of the singer.
Some fans even requested users of the microblogging site not to listen to the leaked tracks until they are officially released on Monday.
"Don't listen #1989leak don't. And I'm trying really hard!!!!!!!!" tweeted one fan, while the other wrote, "YES it's tempting to hear 1989 BUT wait just two little days for Taylor IF you really LOVE HER YOU CAN WAIT (!!!!!) #DONTLEAK1989 #1989leak."
It may be recalled that Taylor Swift's previous album, Red, which was released in 2012, was also leaked but it surprised everyone by selling 1.23 million copies in its release week.
Will the singer's fans ensure that 1989 repeats history? Only time can tell!