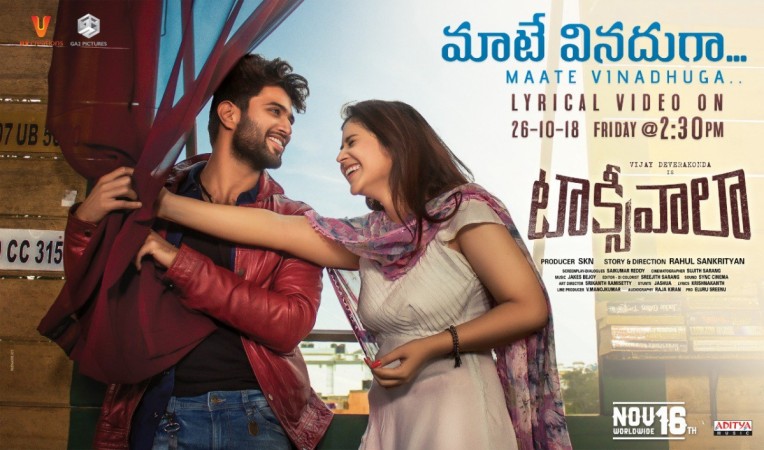 The people in the industry think that Taxiwala will be the next blockbuster for Vijay Devarakonda after Geetha Govindam, but the actor says that it will not make a huge collection at the box office.
Vijay Devarakonda has become the young sensational actor with back-to-back hits like Pelli Choopulu, Arjun Reddy, Mahanati and Geetha Govindam. The failure of Nota might have been a big setback to his career, but the promising promos have made everyone feel that Taxiwala is set to become his next blockbuster movie.
Taxiwala is scheduled to hit the screens on November 17 and the trade experts are now busy predicting its collection at the box office. Vijay Devarakonda, who is currently promoting it, thinks that the movie will not make huge bucks at the ticket counters. But he is confident that the film will get profit to everyone involved in its trade.
"Taxiwala is not a film which will collect huge as the genre is different in itself. As the film is made with a low budget, everyone involved with it will be in a safe zone and earn good profits. My heroine feels that the film will be a huge money grosser but I don't think so," Vijay Devarakonda told in an interview to 123Telugu.
Taxiwala is a supernatural comedy thriller film, directed by Rahul Sankrityan. He said, "The film about a young guy, who gets into all sorts of troubles because of his car. There are a situational comedy, horror and many supernatural elements in the film which have been narrated in a superb manner. All the characters in it are serious and go through many issues but the audience will be enjoying seeing them."
When asked about the failure of NOTA, Vijay Devarakonda said, "I got to see NOTA only a day before its release and found out several mistakes which could have been avoided. But things were too late by then. The lesson I have learned from its failure is that I should do one film at a time and keep track of it till the end along with the promotions which will help me give better output."