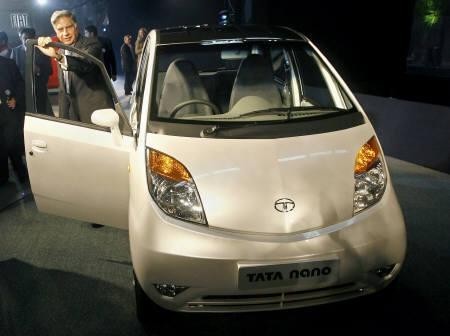 Earlier this month, we had reported that Tata's cheapest offering Nano is getting a makeover with Nano Diesel and Nano Twist. It is now being said that besides Nano Twist and Diesel, Tata Nano Plus, a new variant is also in the offing.
Following the launch of Nano Twist and Nano Diesel, Nano Plus, a new model would hit the Indian markets soon, according to the Economic Times. Tata would offer the new variant of Nano with exciting features like front disc brakes, improved aircon, bucket seats, new dashboard, LED headlamps and fog lights, revised hood styling and open-able tail.
Tata appears to be trying hard to make Nano the Indian auto aficionados' car with the strategic reposition of the vehicle. Nano, which was expected to capture the common man's taste in the domestic market failed to do so when launched in the country. Even though the maker of the car made numerous attempts to revive Nano's market in the sub-continent, the effort did not yield good result.
However, Tata was not ready to give up just yet. The news of Nano coming in new avatars has been hitting the headlines for quite some time. Interestingly, Tata group's chairman Ratan Tata, who dreamt of making Nano poor man's car, recently opined that labeling Nano as the cheapest car was unfortunate and the company is planning to re-launch the car in new avatars.
"We are on the fast journey in making the transformation, making sure all the fundamentals are in place, in trying to create aspiration around the brand, but a slow journey in making sure we don't mess (up) on the fundamentals," a company spokesperson told ET adding, "We should see a tipping point in the next six months' time."
At present, Nano is available in five variants which include Tata Nano STD, Tata Nano CX, Tata Nano LX, Tata Nano CNG CX and Tata Nano CNG LX. The petrol variant of the car is powered by a 0.6-litre MPFI engine, which churns out a power of 37.4 bhp and a peak torque of 51 Nm. The engine is mated to a four-speed manual gearbox.
The upcoming Nano diesel is speculated to pack an 800 cc common rail diesel engine under the hood, which can churn out a power of 40.2 bhp and torque of 70 Nm. Earlier reports suggested that the diesel Nano is likely to offer a mileage of 30+ kmpl, which is currently the best in the Indian market.
Additionally, Tata is also gearing up to offer its least expensive car with power steering developed by ZF. The new avatar of Tata Nano with power steering will be called Nano Twist and will be launched in the market on 15 January, 2014.