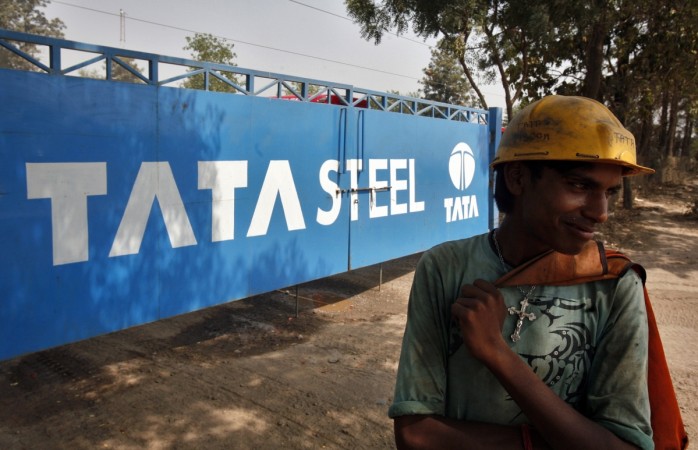 Share of Tata Steel plunged on the bourses on Thursday after the company reported disappointing results for the March quarter.
The stock fell almost 5 percent on the Bombay Stock Exchange (BSE) and closed at ₹344.40.
The country's biggest steel maker reported net loss of ₹5,674 crore for the quarter ended March 2015 as against net profit of ₹1,036 crore for the quarter ended March 2014. The total income dropped 20.6 percent to ₹33,666 crore from ₹42,428 crore for the quarter ended March 2014.
The company said that a steep fall in steel prices in the past few months due to a surge in cheap imports, particularly from China, Japan and Korea, led to a fall in revenues.
An analyst said the trend of falling prices will persist in the near future, making things more difficult for Tata Steel.
"We see further challenges ahead, as the company is yet to use 1.5 mt high cost iron ore and domestic prices fell further by ₹1000- 1500/ tonne. We have further reduced our estimates on standalone business factoring in drop in steel prices and higher iron ore costs," Brokerage firm Emkay told Firstpost.
The company's earned a profit of ₹814 crore in March quarter from Indian market, down 59 percent from ₹1978.6 crore on year-on-year basis.
"Our performance this year in India was impacted by surging imports, declining commodity prices, muted demand and regulatory uncertainties in our captive mining operations," said Koushik Chatterjee, group executive director, Tata Steel.
The results have forced many analysts to downgrade their outlook for the stock.
Credit Suisse maintains a 'underperfom' rating for the stock with a target price of ₹210 per share, and notes that a "precipitous drop in Indian profitability is alarming".
Deutsche Bank has kept its 'buy' rating unchanged, but cut the target price to ₹400 per share.
The bank expects improvement in profitability and volume trajectory in India operations in the second half of 2015-16, moneycontrol.com reported.