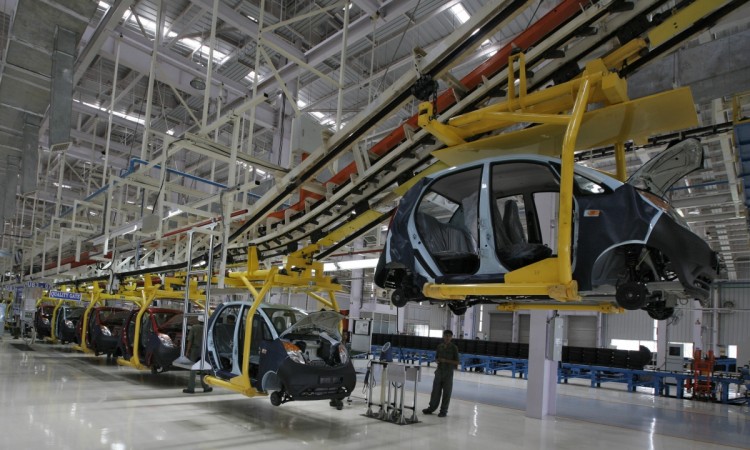 More than 350 workers of Tata Motors were detained by the Gujarat police Saturday for holding demonstration outside the company's small car factory in Sanand, near Ahmedabad. The workers are on strike for the past 27 days demanding the reinstatement of 28 suspended co-workers.
The other demand of the workers -- recognition of their union by the Gujarat government -- which was the initial cause of the strike between the company and its workers has been met. The workers now want their 28 suspended colleagues to be taken back by the company, the Indian Express reported.
"We are happy that the union has been recognised. However, our major demand remains to have our 28 suspended colleagues reinstated, and our agitation will continue until a compromise is reached over the matter," the daily quoted Hitesh Rabari, president of the newly formed and recognised union, the Bhartiya Kamdar Ekta Sangh (BKES), as saying.
Besides Nano, the Sanand factory manufactures the company's hatchback Tiago.
The 300 workers went on an "illegal" flash-strike Feb. 22 demanding the reinstatement of their 28 colleagues, who, Tata Motors said, were suspended for "serious misconduct." The company also said the strike "does not have a material impact" on its operations. Media reports had put the number of striking workers at 422 of a total strength of about 2,200 workers.
However, a PTI report said that production of Nano has been curtailed to 10 percent of the Sanand unit's small car capacity. The company manufactures about 2,000 Nano cars on an average every month, statistics revealed.
The plant has an annual production capacity of about two lakh units.
The company set up the Sanand factory in 2010 since it faced problems in acquiring land for the plant in Singur, West Bengal.
Tata Motors appointed Guenter Butschek as chief executive officer and managing director Jan. 18. His last assignment was with Airbus Group where he worked as CEO at Airbus, according to Tata Motors.