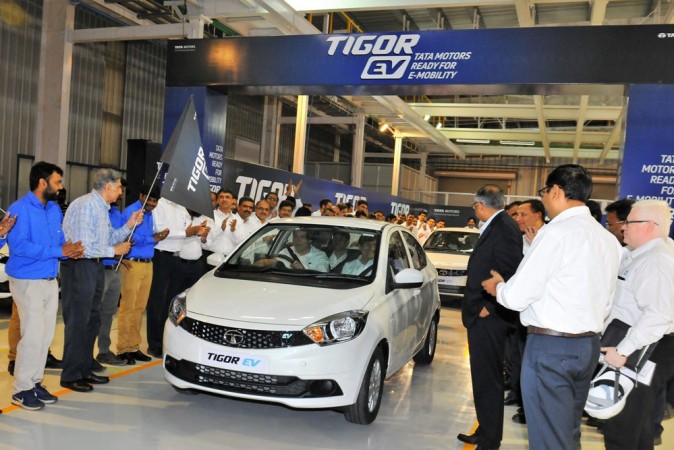 Indian automobile major Tata Motors has rolled first batch of the Tigor Electric Vehicle (EV) from its Sanand plant in Gujarat on Wednesday. N Chandrasekaran, Chairman, Tata Sons and Tata Motors flagged off the electric version of the Tigor from the production line.
Ratan N Tata, Chairman Emeritus, Tata Group, Guenter Butschek, CEO and MD, Tata Motors and members of the Tata Motors Executive Committee were present at the plant for the rollout. The Tigor EVs are being manufactured for the Indian Government's order of electric vehicles from the Energy Efficiency Services Ltd (EESL), an entity under the Ministry of Power.
Tata Tigor EV comes with no noticeable visual change when compared to its fossil fuel variants. Squint eyes may spot the illuminated 'EV' badging on the grille. The major change lies under the hood with electric powertrain. The electric drive system has been developed and supplied by Electra EV - a company established to develop and supply electric drive systems for the automotive sector. The company has not divulged specifications of the Tigor EV yet.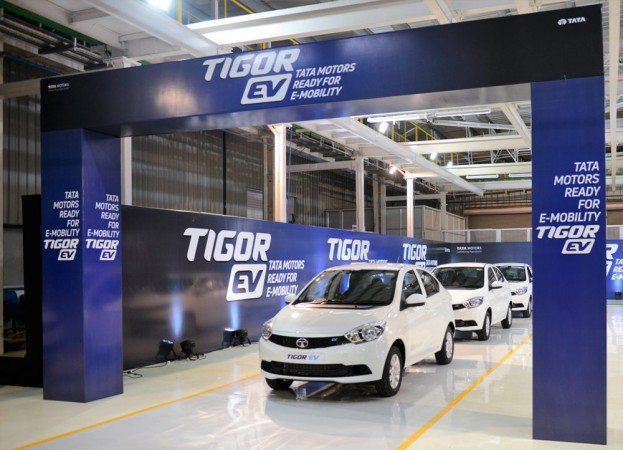 Tata Motors had qualified as L1 bidder and won the tender of 10,000 electric cars floated by EESL in September 2017. In the phase one, Tata Motors is required to deliver 250 Tigor EVs, for which it has received a letter of authority (LoA). For an additional 100 cars, the LoA is expected to be issued shortly by EESL.
"This occasion is a significant milestone for Tata Motors and a proud moment for the entire team. As we work together to build the future of e-mobility in India, I am confident that our customers will respond very favorably to this electric model. I congratulate the entire Tata Motors team for this commendable achievement and wish them the very best as they go forward on this journey," said N Chandrasekaran.