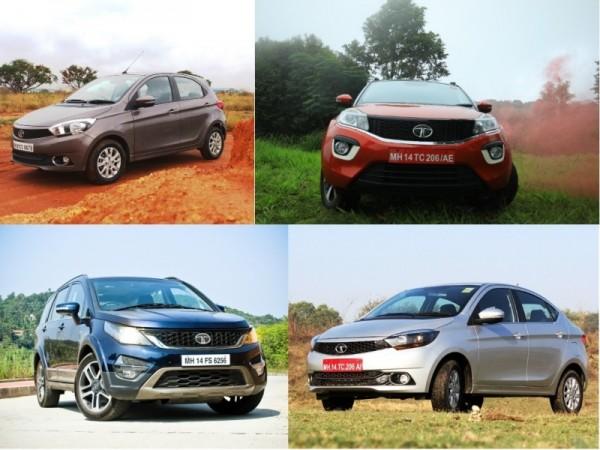 In a bid to increase the sales in December, Tata Motors has announced 'Mega Offer Max Celebration' campaign for its selected cars. The year-end offer also allows Tata customers to purchase their desired vehicle for a down payment of just Rs 1.
As per Tata Motors' press brief, the company is offering savings up to Rs 26,000 on the Tiago hatchback purchase. The Tigor compact sedan is offered with savings up to Rs 32,000 and Zest with Rs 68,000. Among the bigger vehicles, the Hexa is offered with savings up to Rs 78,000. The highest benefit is for Safari Storme purchase. The SUV can be bought for discounts of Rs 1 lakh in December. The offer is depending on the model and variant.
In addition, Tata Motors has tied up with leading financiers and banks to offer up to 100 percent funding through finance schemes on the passenger vehicles.
"We want to enhance positive sentiment through the end of the year Mega Offer Max Celebration campaign. This December, our customers can drive home a Tata car at a down payment of Rs 1 through our attractive finance offers. At the same time they will enjoy huge savings on our cars upto Rs 1 lakh through our insurance scheme at Rs 1 and exchange bonus," said Vivek Srivatsa, Head- Marketing, Passenger Vehicle Business, Tata Motors.
Tata Motors, with the reboot it got after the launch of Impact models (Tiago, Tigor, Nexon and Hexa), has been steadily improving its domestic sales. The Mumbai-based automaker outsold Mahindra & Mahindra in the month of November to become the third-largest seller of passenger vehicles. Tata Motors sold a total of 17,157 units in the month of November, growing at a whopping 35 percent over the last year's sale volume. The carmaker sold 12,736 in the same month last year.