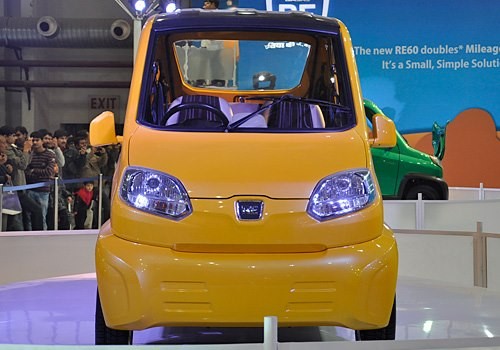 Even as Bajaj Auto Ltd waits for green signal from the government for issuance of regulations on quadricycles, country's second largest two-wheeler maker faces strong objections from its rivals Tata Motors and Maruti Suzuki.
Tata Motors Managing Director Karl Slym took a dig at Bajaj's new four wheeler category saying that the proposed project is a step backward in terms of traffic safety and environmental concerns. He questioned the cachet of the quadricycles on the microblogging site Twitter saying that "The number of wheels do not make us automatically better, it is adherence to tried and tested safety and emission norms". He had earlier said "Why? The Government+industry have been accelerating efforts in traffic safety & environment, now we consider Quadricycle! Why go backwards?"
A day after country's two auto majors clashed, Maruti Suzuki too joined the chorus by taking a potshot at Bajaj. In an unusual move, Maruti's MD Shinzo Nakanishi has attacked the upcoming quadricycle RE60 by saying that "regulation should be as per existing norms for four wheelers. Safety, emission norms must be as they are for all four wheelers".
However, Bajaj refuted the claims of rivals saying that RE60 is not a passenger car and it is being developed as a vehicle which falls between a traditional auto rickshaw and a car. It is different from four wheelers and will come at a cheaper price than any other cars. The car, which has got in-principle approval from the government, is said to be upholding the objective of safety to the three-wheeler users.
"By that logic, since large cars are perhaps the safest, all other forms of personal transport such as cycles, mopeds, scooters, motorcycles, three-wheelers, & small and medium cars should be banned. Either you buy a Mercedes, BMW or Audi, or take the bus or train," said Bajaj according to The Economic Times.
The company is yet to talk about the pricing of the car for the Indian market. Reports said that it is expected to be priced around Rs 1.5 lakh. Talking about the launch of the car, RC Maheshwari, Bajaj Auto's president for commercial vehicles had earlier said: "At present, a committee comprising of government officials and auto industry executives who are members of SIAM, are finalizing the rules for quadricycles. We understand the process of final inclusion of the new class in the Central Motor Vehicle Rules would take few more months."