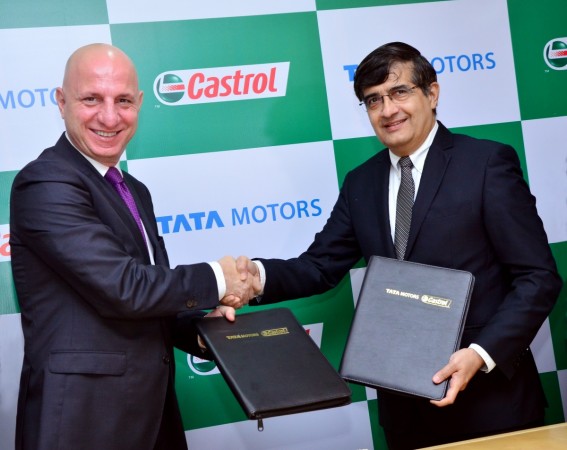 Tata Motors, an Indian automotive manufacturing company, on Wednesday signed a partnership agreement with Castrol. Under the new partnership deal, Castrol will supply lubricants like engine oils, gear oils, transmission fluids and ancillary products to Tata Motors' passenger vehicles.
Following the news of the partnership on Thursday morning, Tata Motors Ltd's stock was trading at Rs. 554.10 at around 12.05 p.m., up 0.74 percent. Similarly, shares of Castrol India Limited were trading at Rs. 465 apiece, up 1.62 percent around the same time on the Bombay Stock Exchange.
In the passenger vehicle segment, Castrol and Tata Motors have also worked together to co-engineer products to suit the requirements of the passenger vehicle range, including the recently launched Tiago.
"Castrol has been a trusted partner with Tata Motors over the last several years. Our companies share similar values and are focused on delivering the best product quality and services and delightful customer experiences. We are glad to extend our partnership with Castrol and look forward to working closely with them to leverage the growth opportunities in the passenger vehicle market," Mayank Pareek, president, Passenger Vehicle Business, Tata Motors said in a statement.
Castrol will provide Tata with its professional series of lubricants such as Castrol GTX Professional Diesel, Castrol MAGNATEC Professional T5W30 and Castrol EDGE 0W40 engine oils. These products are available across its distribution network and retail outlets in the country.
"Castrol's relationship with Tata Motors goes beyond providing pioneering technology products and outstanding service, to collaborating with them to enhance their customers' experiences," Omer Dormen, managing director, Castrol India Limited, said in the statement.
Tata Motors Limited is India's largest automobile company, with consolidated revenues of Rs. 2,75,561 crore (about $41.6 billion) in 2015-16. Through subsidiaries and associate companies, Tata Motors has operations in the UK, South Korea, Thailand, South Africa and Indonesia.