The Rs 6.5 lakh crore ($100 billion) salt-to-software Tata Group needs to consolidate and focus on returns and capital allocation, Tata Sons Ltd chairman N Chandrasekaran has said.
The industry veteran, who previously served Tata Consultancy Services (TCS) as the CEO, told the conglomerate's in-house magazine Tata Review that India is the fastest-growing market for group businesses.
"We have far too many companies in the Tata Group and some level of consolidation is essential. Our aim should be to achieve the optimal level of consolidation without losing the entrepreneurial spirit we are famous for. We have not worked out all the details. We have our thoughts on this and we will consider them carefully," Chandrasekaran said.
After becoming the conglomerate's chairman last year, he came up with the "One Tata" approach, which aims to cluster companies to drive growth.
The group wants to create five to seven clusters besides the three big firms — Tata Steel, Tata Motors and Tata Consultancy Services. And the chairman has mandated that different entities serving the same function will be merged to create a cluster of companies around infrastructure, defence, consumer goods, finance and travel.
Recently, the Tata Group sold its debt ridden consumer mobile business Tata Teleservices to Bharti Airtel for almost no incentive.
In September, Tata Steel and German major Thyssenkrupp AG signed a memorandum of understanding (MoU) to build Europe's second-largest steel enterprises.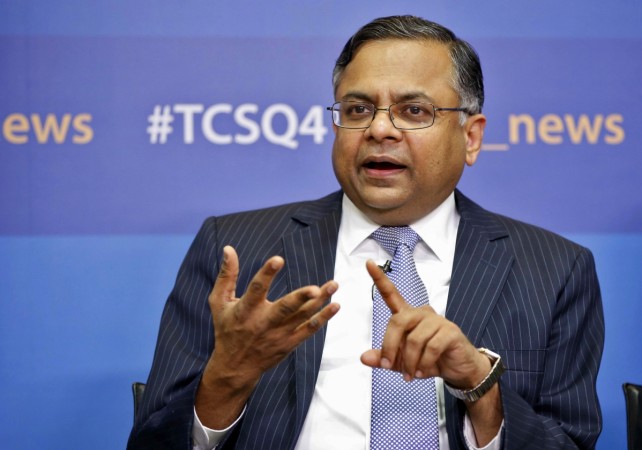 "One of the initial areas of focus has been on building a team with the requisite skills to get the immediate job done. From a business perspective, we have focused on situations that required priority intervention, such as the Tata Steel-Thyssenkrupp merger and the Tata Tele-Airtel deal. Suffice to say, we are focused on the issues that need our attention," Chandrasekaran told the magazine.
In the last decade, the group bought two large foreign businesses — Corus and Jaguar Land Rover — two of the largest cross-border acquisitions by Indian companies.
However, Chandrasekaran emphasised that the group would concentrate on returns and capital allocation and won't exit businesses indiscriminately.
"I have clearly stated the emphasis on returns and capital allocation, but that does not mean we will exit a business that does not meet our targets. We will always work hard together to realize the potential of every Tata business. There will be times, though, when hard decisions are inevitable," said Chandrasekaran.