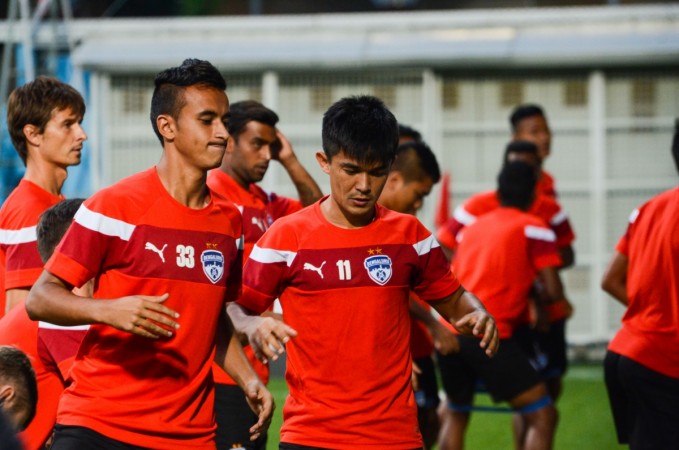 With the ongoing agitation over the Cauvery issue in Karnataka robbing the fans of witnessing Bengaluru FC and Tampines Rovers live in action at the Sree Kanteerava Stadium, the AFC Cup 2016 quarterfinals second leg too is facing a roadblock.
The Indian football club had organised a special screening for their fans at a local pub for Wednesday's match between the two sides, which will take place in Singapore, but as per orders, the shutters need to be down, making the Bengaluru FC supporters a disappointed bunch.
Nevertheless, live action on TV is still available, as Bengaluru FC look to make more history. The I-League club made history earlier this year by making it to the AFC Cup 2016 quarterfinals and they are now looking to make it to the semifinals of the continental competition. The side, coached by Albert Roca, have a one-goal lead from the first leg, thanks to CK Vineeth.
"The second leg is always a big challenge. It isn't going to be easy given we have only the one goal to show for and Tampines will look to make things difficult in a bid to reverse the situation. But we have to be prepared for that," said Roca in the pre-match conference.
Going against the home team is always tough and Tampines Rovers, one of the most successful teams in the S-League, will not give the I-League champions an easy outing. "The pressure is always there, no matter how much we say it isn't," said Akbar Nawas, Tampines Rovers coach.
"We need to step things up from the start and should not make the mistake of taking Bengaluru lightly," he added.
Neither of the teams have ever made it to the last four of the AFC Cup.
Schedule
AFC Cup 2016 quarterfinals: Tampines Rovers vs Bengaluru FC is scheduled to kick off at 5 p.m. IST (7:30 p.m. SGT).
Where to watch
India: TV: Star Sports 4/HD 4. Live streaming: Hotstar.
Singapore: TV: Fox Sports 3. Live streaming: Fox Sports Play.
Live scores: official Bengaluru FC Twitter handle.