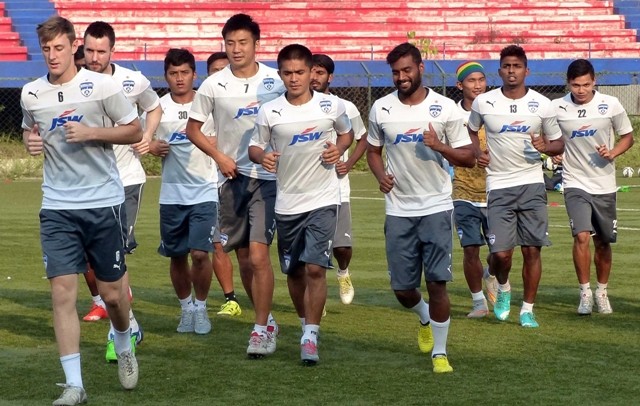 Bengaluru FC became the third Indian football side in history after East Bengal (2013) and Dempo FC (2008) to enter the AFC Cup semifinals. They achieved the feat after holding Tampines Rovers to a goalless draw in their return leg AFC Cup 2016 semifinals game in Singapore on Wednesday evening.
The I-League champions already had a 1-0 lead from the first leg game at Kanteerava.
Both teams started dominating proceedings from the very go and either side had fair amount of chances. Bengaluru FC custodian Amrinder Singh made a save early on in the 12th minute of the game to parry Tampines Rovers defender Hafiz Abu Sujad's long left-footed attempt on goal. That was not all as the home side kept coming with former Premier League star Jermaine Pennant constantly troubling the Bengaluru defence.
The I-League champions came close to scoring in the 32nd minute as Eugeneson Lyngdoh's corner kick saw the ball menacingly hit the far post and come out, bringing much relief to the home fans. There was yet another attempt on goal from Eugeneson in the 38th minute but the Indian midfield maestro completely missed getting a touch on the perfect cross played out by CK Vineeth from the wing.
After the half time, Indian football talisman Sunil Chhetri took a dangerous shot on goal with his weak foot, but Izwan Mahbud, the Tampines Rovers goalkeeper, somehow stopped the low ball. In the first leg match, the Singapore goalkeeper had a terrible time in goal with the BFC players attacking back and forth at Kanteerava.
Both goalkeepers upped the ante as the final minutes approached and it was Bengaluru FC who were resolutely defending while Amrinder Singh too was giving all he possibly could. Billy Mehmet and Pennant combined well at the death to keep BFC completely unsettled. Jordan Webb and Sujad also pulled the trigger on many occasions, but Amrinder remained solid between the sticks.
It was drama on the other end as well as Eugeneson once again tried another attempt on goal at te death but yet again, the ball hit the post and came out. It didn't matter much in the end though as Albert Roca's side achieved what they wanted to and it's more glory that they can now look forward to.