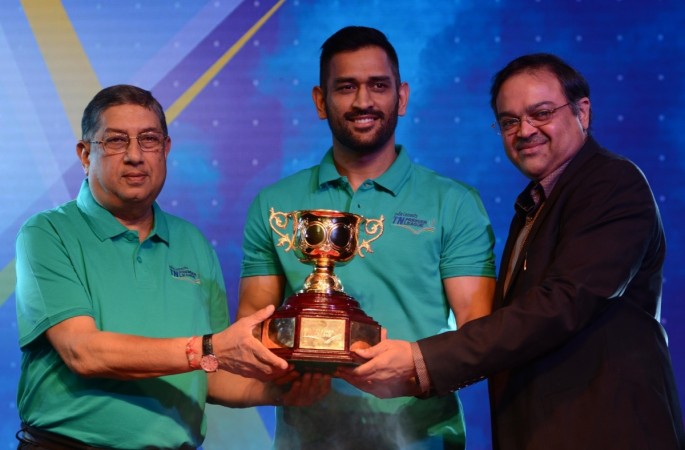 The inaugural edition of the Tamil Nadu Premier League (TNPL) gets underway on Wednesday. It comes as a relief for cricket fans in the southern part of India who missed Chennai Super Kings in this year's Indian Premier League. The MS Dhoni-led side is currently suspended for two years for the alleged involvement of their owners in the 2013 IPL betting case.
At times like this, the TNPL comes as a ray of hope for the plethora of cricket fans in the region. A total of eight franchisees will participate in the competition, which will be played at three venues in Tamil Nadu.
Only cricketers registered in Tamil Nadu are eligible to take a part in this IPL-style cricket league. "It will be a big opportunity for the youngsters in Tamil Nadu to take up the game. The TNPL will be a good platform for them," Dhoni said during the inauguration of TNPL in Chennai.
Dhoni also referred to Chennai Super Kings and mentioned that the men in yellow, one of the most successful teams in the IPL, will be back with a bang in 2018.
"We will all have to wait for one more year and then the men in yellow will be back," the 35-year-old hotshot cricketer added. "And Dhoni will be wearing the yellow jersey," he said.
Dhoni will not be in action, but several highly-rated young cricketers will be seen plying their trade in the league. Spinner Ravichandran Ashwin will play for Dindigul, while batsman Murali Vijay has been picked by Coimbatore.
Here is the list of teams, their head coach and squad details:
Thoothukudi
Dinesh Karthik, L Balaji, Washington Sunder, Aswinathisayaraj Dav Crist, Abhinav Mukund, Aushik Srinivas, Kaushik Gandhi, Anand Subramanian, Akash Sumra, Sathyanarayan R, Sushil U, Ganesh Moorthi M, Athisayaraj Davidson, Maaruthi Raghav, Vishaal R, Siddarth S Ahuja, Lakshman V, Nathan SP, Nicul Anand.
Coimbatore
Murali Vijay, Syed Mohammed, Mohammed M, Suryap Prakash L, Vijay Shankar, Siva Kumar, Rohith R, Vignesh K, Anirudh Sita Ram, Ajith Ram, Harish Kumar, Akshay V Srinivasan, Arun B, Anchit D, Kamalesh M, Tarun Srinivas, Adhithya Giridhar, Gowtham Thamarai.
Chepauk
R Sathish, Yo Mahesh, Thalaivan Sargunam, Anthony Dhas, Gopinath, Sai Kishore, Sasidev, Joel Joseph, Tamil Kumaran, Alaxander R, Vasanth Saravanan S, Rahul B, Ashwath Mukunthan, Karthik S, Rajeel Abdul Rahman, Nirmal Kumar, Vasudevan, Aditya Barooah, Shibi Jawahar.
Madurai
Arun Karthick, Suresh Kumar, Thiyagarajan, Francis Rokins, Chandrasekar, Vignesh Ganapathi, Raja M, Shijit Chandran, Vignesh L, Maan K Bafna, Muruganantham S, Aswin Kumar, Amarnath, Varun Narendar, Sakthi P, Anton Andrew Subikshan, Mihir R, Edward Kennedy, Madhu C. Coach: Michael Bevan.
Kancheepuram
Indrajith B, Koushik J, Jesuraj R, Shahrukh Khan M, Bharath Shankar, Prathiban, Varun Kumar, Prabhu M, Kaushik J, Ganesh L, Adithya Ganesh, Siddharth S, Suthesh T, Nilesh Subramanian, Akkil Srinaath, Pradosh Ranjan Paul, Mitchell Anthony, Trilok Nag, Aditya B.
Thiruvallur
Aparjith B, Abhishek Tanwar, Rahil S Shah, Kavin R, Chaturved NS, Malolan Rangarajan, Rohit R, Jaganath Sinivas, Vignesh GV, Sanjay Yadav, Arun S, Samruddh Bhat, Hari Nishaanth, Lakshminarayanan, Govindaraj, Silambarasan, Mukilesh, Samuel S, Santosh Shiv.
Dindigul
R Ashwin, Ashwin M, Natarajan, Sanjay MS, Jagadeesan N, Ganga Sridhar Raju, Subramania Siva, Sunny Kumar Singh, Mukunth, Wilkins Victor, Ashwin Venkataraman, Shyam Sundar, Dinesh S, Yazh Arul Mozhi, Prashant Prabhu, Abhishek, Vivek, Adithya Arun, Silambarasan.
Karaikudi
Badrinath, Aniruda, Sunil Sam, Suresh Babu, Lokeshwar, Ganapathi Chandrasekar, Shoaib MD Khan, Vishal Vaidhya, Sonu Yadav, Rajkumar, Mohan Prasath, Vijay Kumar, Abhinav M, Jerome A, Srinivasan R, Kiran Akash, Sujay S, Swaminathan S, Shahjahan. Coach: Robin Singh.