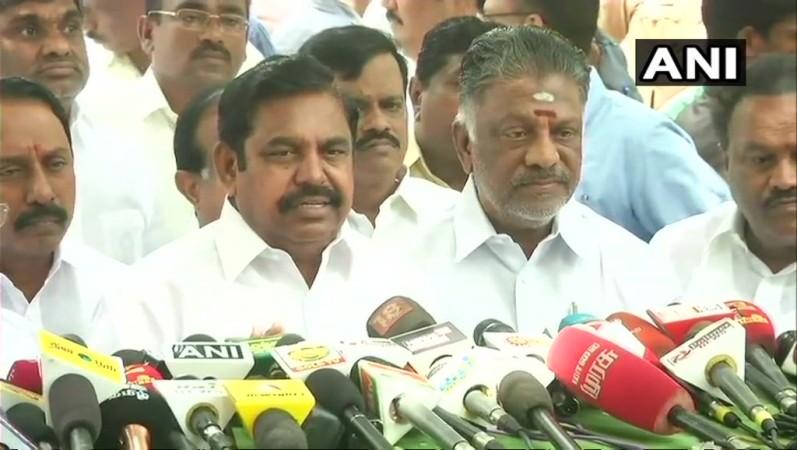 Tamil Nadu Chief Minister E Palaniswami has met Prime Minister Narendra Modi with demands to confer the Bharat Ratna on former CMs J Jayalalithaa and CN Annadurai. He met with the PM in New Delhi. Along with this, he has also placed a demand with the centre to rename Chennai Central railway station and include former CM MG Ramachandran.
Earlier in September, EPS had written to PM Modi on the Bharat Ratna issue, reports ANI.
The award, "would be the most fitting way to recognise the extraordinary public service, phenomenal achievements and the remarkable life of one of the most influential political leaders of independent India," Palaniswami said in the letter to Modi last month, notes the report.
In this face to face meeting, EPS reiterated what he wrote to Modi. "In our meeting with prime minister today, we have put forward a demand to accord Bharat Ratna to 'Amma' and Arignar Anna (CN Annadurai). We also demanded the Chennai Central railway station be renamed after AIADMK founder MG Ramachandran," he said.
J Jayalalithaa was the former CM of Tamil Nadu and she passed away December 2016. She served as the CM of the state for five terms and held the top job for a little over 14 years. In her first term, she was the youngest ever person to become CM of TN. As the leader of the AIADMK party, she is also referred to as Amma (mother). After her passing, the ensuing succession struggle saw EPS take her seat in the TN assembly.
CN Annadurai was a Dravidian leader was the first ever CM of the then newly created Tamil Nadu State and the Last CM of the Madras Presidency. A well-known orator and activist, he was one of the forerunners of the Dravidian movement. The All India Anna Dravida Munnetra Kazhagam (AIADMK) party was named in his honour.