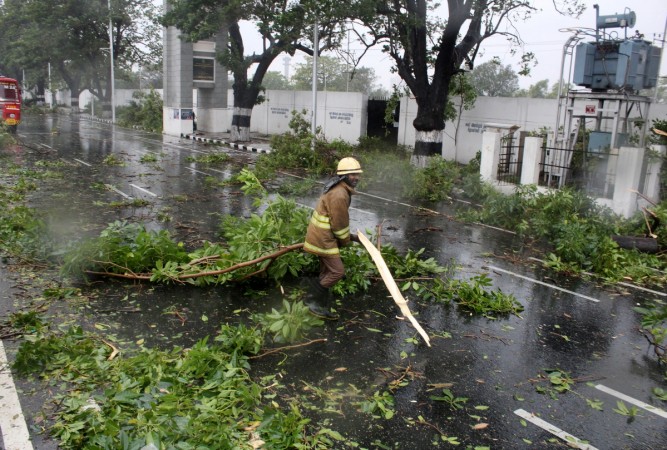 Just when Tamil Nadu had heaved a sigh of relief after being submerged for a few days and enjoyed some sunshine, the state – mostly the southern part – is gearing up for another cyclone. The meteorological department has said that a low-pressure system is forming in the Bay of Bengal that could turn cyclonic and hit the east coast around December 4.
The low-pressure system is likely to intensify and become a deep depression on Thursday, November 30, bringing heavy rains to the southern parts of Tamil Nadu. According to the IMD, winds would have a speed of 45-55 kilometres per hour and may even hit 65 kilometres per hour during the next 48 hours. The Met office has also issued a warning of heavy to very heavy rain over areas in coastal Tamil Nadu, Puducherry and Karaikal.
"So far, we expect a low-pressure system to form in the Andaman sea in the next few days," Scroll quoted SB Thampi, head of the Regional Meteorological Centre in Chennai, as saying. "In the next few days it will move towards the Bay of Bengal and is likely to come closer to Chennai and take a northerly turn. Whether it will reach cyclone intensity or not, it cannot be said at this point in time. We will have to wait and see."
#ChennaiRains all chennai mates be ready for a vulnerable rain that going to hit Thiruvallur chennai kanchipuram districts in December 3 to December 6 its gonna very heavy that i predicted this a week before pic.twitter.com/Yz85FvuAge

— Sakthi vel (@Sakthiv61764782) November 28, 2017
Apart from Tamil Nadu, Kerala and Andhra Pradesh may also witness some wet weather and Sri Lanka and Maldives may also be affected by the low-lying trough. While the weatherman expected Chennai is to receive light to moderate shows, residents have said that the city has been receiving heavy rainfall for the last few hours. Several Twitter users have posted images of dark clouds over the city and heavy rains lashing a few areas.
Commercial weather forecasting company Accuweather has warned that several parts of Tamil Nadu may have to brace up for flash floods and mudslides, and states like Telangana, Chhattisgarh and Odisha could also receive rain. Additionally, Bengaluru in Karnataka also may receive light rain.