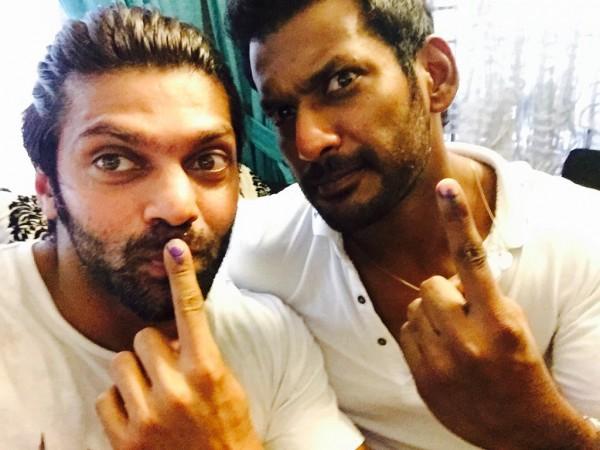 Vishal, Siddharth, Sivakarthikeyan, Trisha, Anirudh and a host of other Kollywood celebrities urged fans to cast their vote in the 2016 Assembly Elections in Tamil Nadu.
Superstars like Rajinikanth, Kamal Haasan, Vijay and Ajith Kumar were some of the Tamil film stars who visited the polling booths early in the morning and cast their votes. Later, Vishal, Siddharth, Sivakarthikeyan, Vivekh, Trisha, Varalakshmi, Anirudh and some other young celebrities took to their Twitter handles to post the photos of their inked fingers, and requested fans to cast their votes.
As the Assembly Elections got under way in Tamil Nadu, many celebrities were among the first to cast their votes.
Vishal Krishnan: Well da D day is here. Polling day.On da way to vote wit my bestie @arya_offl. Pls do step out and cast your vote.gb. Jus done casting our votes.@arya_offl n me. Pls go and cast your vote. Gb"
Siddharth: Vote. It's your duty. It gives you the right. Be the change you want to see. No excuses. Vote. Jai Hind.
Sivakarthikeyan: Casted my vote Pls do vote,Voting is our responsibility..
Vivekh: Poll officers n police were efficient n friendly. Going smooth at Virugambakkam, jaigopal karodia school!
Trisha Krishnan: Did my bit #vote #TamilNaduElection
Varalakshmi Sarathkumar: #TNElection2016 #TN100Percent Make it happen...Be the change u want..I've voted..have u..??
Sriman: Voting is very important as a citizen we actors did it, DID U??? If not do it now, all the best to all Parties. We did it as per rule as a citizen, voting is very important do not miss it do not avoid voting, please vote vote
Akshara Haasan: Voted for the first time and that too namba Tamizh nattu le
Anirudh Ravichander: Cast my vote in the #TNElection2016 #BeResponsible
Akhil: Casted my #Vote !! Have you guys ?? Voting is our responsibility so pls do guys #TNElection2016
Kathir: Make it #TN100Percent #TNElection2016 #Coimbatore
Robo Sankar: And finally casted my vote after 1hr of standing in rain and que. Do vote its the only right for all.
Prem Kumar: Happy to vote as a citizen. Pls vote #TN100Percent